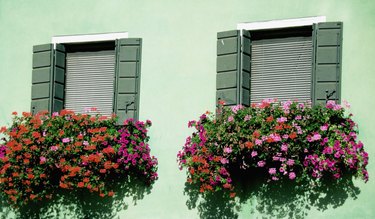 Window boxes filled with flowers add cheery color and brighten up windows, but an artificial flower arrangement might be best if the window box is hard to access or easy to forget. Artificial flowers keep their color year-round and require zero maintenance, making them a suitable choice if you have a brown thumb and tend to kill live plants. Keep the same arrangement on display, or switch out the flowers for seasonal displays.
Best Blooms
Not all artificial flowers are created equal and if you want neighbors to mistake your blooms for the real thing, it is best to splurge on quality flowers. Artificial flowers have come a long way from the standard selection you can find in the dollar store. Seek out realistic flowers at craft stores where the quality is higher. For best results, choose artificial flowers with UV protection so the colors don't fade and the materials don't deteriorate from sun exposure. Look for sturdy flower petals that hold their shape rather than flimsy petals that bend or wrinkle easily. Wired stems work best for creating flower arrangements because you can bend the stems into position and hold them in place.
Arranging Artificial Flowers
Just as real flowers rely on soil, roots and strong stems to stand upright in a planter, artificial flowers need a base to support the stems. Cut a piece of floral foam with a knife to slightly smaller than the inside shape and size of the planter. Cut individual stems from a bunch of artificial flowers with wire cutters or leave them in a bunch if you prefer a larger grouping. Push the stems into the floral foam to hold them upright. Wrap weak stems with floral wire to strengthen them if they are too flimsy to stand up on their own. Follow basic floral arrangement rules for symmetry and balance when placing flowers in the planter. Add taller flowers to the center or rear, gradually reducing the flower height toward the front of the planter.
Much Mulch
Lightweight floral foam and artificial flowers easily blow away in the wind, so use plenty of mulch to help hold them in place. Moisture retention is not a concern as it is with real flowers, so try decorative options, such as colored pebbles, to enhance the arrangement. In addition to weighting the arrangement, the mulch material hides the unsightly floral foam and plastic flower stems, making the arrangement more realistic. If weight still seems to be an issue, tie a rock to the bottom of the floral foam with floral wire or twine to anchor the arrangement.
Display Ideas
Neighbors are more likely to mistake your artificial window box flowers for the real thing if you use flowers that grow in your area and are in season. Additionally, the window box displays work well for creating seasonal arrangements to celebrate holidays. For a spring display, you might use a mixture of artificial spring flowers such as tulips (Tulipa spp., U.S. Department of Agriculture plant hardiness zones 3 through 8), daffodils (Narcissus spp., USDA zones 3 through 9) and hyacinths (Hyacinthus spp., USDA zones 4 through 9). Artificial chrysanthemums (Dendranthema grandiflorum, USDA zones 5 through 9) mixed with artificial fall leaves and gourds evoke a fall theme. For a holiday or winter display, mix artificial poinsettias (Euphorbia pulcherrima, USDA zones 9 through 11) and paperwhites (Narcissus papyraceus, USDA zones 5 through 9) with real or fake evergreen boughs, pine cones, and red berry picks.