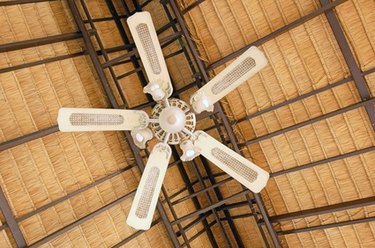 Ceiling fans cool the occupants in a room and allow you to lower your air-conditioning costs. They are attractive as well as functional. Many styles of ceiling fans exist for all types of room designs. Some fans come equipped with light fixtures. It is important to have the right type of mount when installing this useful appliance.
Standard Ceiling Fan Mount
Standard mounts are useful in most rooms with a standard ceiling height. The downrod is the metal rod that extends down from the ceiling bracket to the top of the fan. A downrod on the standard mount typically measures about 3 to 5 inches. Ceiling fans are generally mounted at least 7 feet above the floor area. They should be at least 18 inches away from walls.
Extended Mount
An optimal airflow for a ceiling fan is obtained by having the fan approximately 8 to 9 feet from the floor. Extended mounts allow the fan to hang at the correct height from unusually tall ceilings. The downrods on an extended mount can be as short as 6 inches and as long as 120 inches.
Flush Type
A flush mount holds the ceiling fan directly against the ceiling. This is particularly important for low ceiling heights. This prevents the fan blades from hitting pedestrians as they walk underneath the fan. It is also useful if the ceiling fan has a light fixture that would hang down too low from beneath the fan. Ceiling fans must have at least 12 inches of clearance between the ceiling and the top of the fan blades; 18 inches is optimal for the best air circulation.
Sloped Mount
Sloped mounts are perfect for ceiling fans that are mounted on vaulted or angled ceilings. This type of mount keeps the ceiling fan blades at an acceptable level to increase the optimal airflow in the room. Often, a sloped mount is used concurrently with a extended downrod to obtain the proper height.