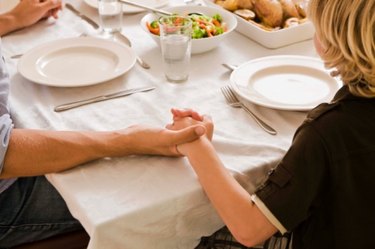 Confirmations are a celebration and dedication of religious faith by a child or teenager. Family members of all ages will attend. Because it is a formal church tradition, you might consider a formal after-party with a sit-down meal; but with children attending, you might also want to plan family-style event. If room is an issue, consider an outdoor barbecue on a patio or deck, or an informal indoor buffet. Whatever you decide, plan ahead and prepare foods in advance.
Sit-Down Dinner
Turkey is a good choice for feeding a large group of people. Combine this with traditional side dishes of mashed potatoes, stuffing, squash and cranberry sauce for an easy-to-serve, family-style dinner. Baked ham is another good choice. Add a casserole of scalloped potatoes with sides of yams, green beans and stuffed eggs.
Buffet
Buffets can be versatile, offering many different dishes to please many appetites. You can also offer sliced baked ham, turkey and lasagna, and mix it up with a chafing dish of Swedish meatballs and another of shrimp scampi. Offer a variety of side dishes, including a rice pilaf, mashed garlic potatoes and a steamed vegetable platter of carrots and broccoli. If you are on a tight budget, with limited seating, consider small finger foods, such as pigs in a blanket, chicken teriyaki, pasta salad, pesto couscous, cheese and cold-cut plate and a platter of raw vegetables such as carrot and celery sticks, broccoli and cauliflower florets, cherry tomatoes and julienned red and green pepper. Make sure to provide plenty of napkins and toothpicks.
Backyard Barbecue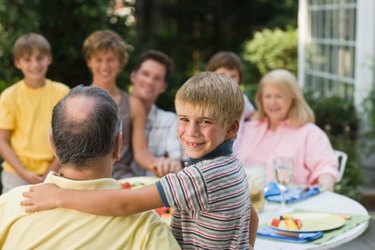 Depending upon on your budget, barbecues can consist of more than just burgers and hot dogs. If you are expecting a large group, consider a pig roast or a clam bake with lobsters and steamers. Deep-fried turkey is another crowd-pleaser. If the budget is thin, but you want to make your party memorable, consider grilled pizza with an assortment of ingredients to choose from: pesto, tomato sauce, tomato slices, pineapple slices, spinach, olives, sliced onions, pre-cooked eggplant, bacon, buffalo chicken pieces, meatballs, sausage and a variety of cheeses. Add a few salads such as Caesar's, fresh garden, pasta and fruit salad. You may also want to offer garlic bread-sticks.
Dessert and Beverages
The dessert for a conformation party is usually a decorated cake. Cakes can be made or purchased in the shapes of Bibles, crosses or praying hands. You may also consider cupcakes or individual minicakes, each decorated with a religious symbol such as a cross. Provide bowls of punch (alcohol and non-alcoholic) for guests to self-serve, bottled water on ice, and tea and coffee.