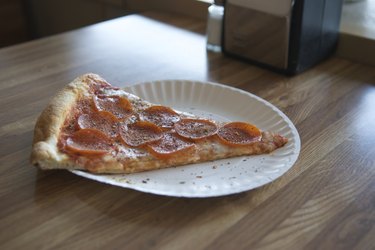 Paper plates, like Dixie-branded paper plates, make life easier. It can be tricky to keep things clean and overwhelming to wash all those dishes after a party. But, can you microwave paper plates? Reheating food on a paper plate is a leftover staple for many people, so it's essential to know whether or not you can put Dixie paper plates in the microwave.
What is the danger of microwaving unsafe materials? For example, metal is absolutely not microwavable. Putting metal in a microwave oven can very quickly start a fire by inducing an electric current, causing sparks to fly. Microwave fires can be disastrous and costly if the fire spreads to the rest of your kitchen. But again, can you put paper plates in the microwave?
Can Paper Plates Go in the Microwave?
The short answer is yes! Paper plates are a safe item for you to put in the microwave. Manufacturers have specifically designed paper plates for microwave use. Paper plates are made of a material called "pulp," which is a type of paper that manufacturers treat with chemicals to make it resistant to heat. This heat resistance means that paper plates are safe to use in the microwave and will not release any harmful chemicals into your food.
The regulators at the USDA include paper plates as one of the kitchen staples that are safe to go in the microwave. They recommend using plain white over plates with designs because those with designs may use toxic chemicals. They can also be coated with a thin layer of plastic, which could leach into your food. It's best to be cautious and only use paper plates that are specifically labeled as microwave safe.
Other Microwavable Dinnerware
You can use many other kitchen utensils and products in the microwave, in addition to paper plates. Paper towels are microwave safe and can be helpful when reheating food. Place a paper towel over the food you're heating to cover any grease or oil that may spit off of the food. Experts warn that while fresh paper towels are safe, avoid any paper towels that you have already used. Other paper items they recommend keeping out of the microwave are paper lids and brown paper bags, as these can potentially start fires.
Glass, like Pyrex or Corningware, is also microwave safe. Glass items are often clearly labeled as safe by a symbol on the bottom of the piece. You will want to look for a symbol that looks like heat waves; this will indicate that it is microwave safe.
Plastics are a trickier subject when it comes to microwaving. Tupperware is microwave safe, but items like one-time use containers are not. These plastics are designed to degrade and can melt in the high temperatures of the microwave. It's best to avoid single-use plastics.
Off-Limits for the Microwave
While paper plates are microwave safe, many other utensils, plates, dishware and cookware should stay out of the microwave. Metal is absolutely not microwave safe. Metal poses such a significant risk that you should always check items before putting them in to ensure they don't contain any metal. Food containers, like leftover Chinese food containers, are not microwave-safe, as these also use metal in their handles.
Plastic wrap, like saran wrap, is also off-limits in the microwave. This convenient kitchen staple will melt, causing harmful plastic to leach into your food. You may be tempted to use plastic wrap to cover your food to avoid splatters all over your microwave but use a paper towel rather than plastic. Another form of plastic you should carefully consider is plastic utensils. Check manufacturer labels to see if your utensils are microwave safe. It's better to use caution and keep them out of the microwave.