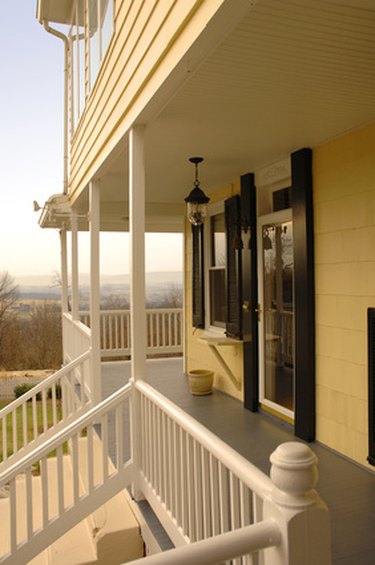 If you have an outdoor porch with an overhanging ceiling, you will need to choose a type of wood that best suits your needs. Depending on where your porch is located, you might need to install a more-resilient ceiling out of PVC-treated wood. Porches in more fortunate climates can use inexpensive plywood to cover their ceilings. Before you begin your project, it is best to look at all the options and find out what your budget will allow you to install. Some ceiling products, such as tongue-and-groove board, are very durable but are also quite costly.
PVC
PVC wood is treated with a special solid core, cellular vinyl material that can stand up to the harshest weather conditions. This type of wood is perfect for porch ceilings that experience severe weather, such as a beach or coastal porch. PVC does not expand or contract like most wood, making it very stable. It comes in a variety of colors and usually has reversible edges that allow you to have the design of your choice.
Tongue and Groove
Tongue and groove is one of the most beautiful types of wood that can be used for a porch ceiling — so beautiful that it is often seen indoors as well. Tongue-and-groove boards come in many different styles of wood, in many different colors. They fit together perfectly to create a wooden panel effect for your ceiling. When installing tongue-and-groove ceilings, you should always nail the board to the joist in several locations to accommodate any expansion of the boards.
Bead Board
Bead board panels are a popular choice for a porch ceiling because they are very versatile. This type of board can be installed over the top of plywood to add more support and it can be painted and stained to match the look and feel of your porch. Because of expansion, you should always leave ¼ inch between each board when installing this type of ceiling.
Plywood
Plywood is also a popular choice for porch ceilings because it is inexpensive and comes in large sheets that minimize installation time. Plywood can also be painted to match your porch. When choosing plywood for a porch ceiling, choose a quality, exterior-grade product to give you the longest-lasting ceiling possible. Priming the edges prior to installation also helps keep out moisture from your plywood ceiling.