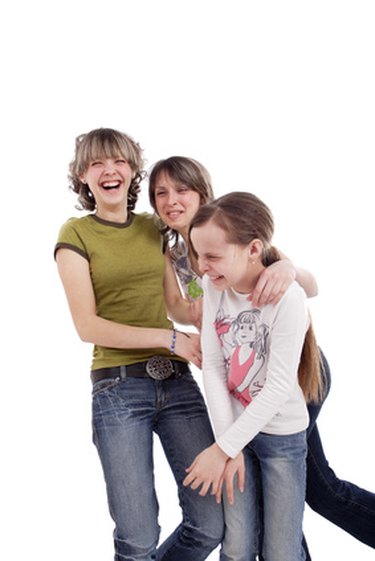 The Houston, Texas, area has a range of birthday party ideas that will satisfy any teen's taste. Teens looking for an extravagant, mature celebration can find attractive venues for their party, and those with a sense of adventure can get their hearts pumping at a gym or on a paintball field. Consider your teen's tastes when choosing a birthday party venue in Houston.
Potter's Wheel Gallery and Gifts
Artistic teenagers can celebrate their birthday and take on a new challenge with a party at Potter's Wheel Gallery and Gifts. Here teens can socialize with each other while painting their own piece of pottery. This party idea is appropriate for teens because it offers an activity challenging enough for their age. Parents can bring refreshments for the teens to enjoy while they make their pottery creations.
Star Fleet Yachts
Parents looking for an extravagant birthday party idea for their teen in Houston can plan an event aboard Star Fleet Yachts. Specializing in Sweet 16 parties, Star Fleet Yachts hosts upscale dance parties for teenagers. This party idea is appropriate for the teen who wants to invite both young men and women to the event -- and wants them to mingle. Teens can sip on virgin pina coladas and much on appetizers while dancing the night away.
Texas Ranger Paintball
Teenagers with a wild streak will be ready to don their gear and take each other on in paintball. Texas Ranger Paintball hosts parties at its facility in the Houston Cy-Fair area. Group packages are available for five to nine players and 10 or more players. Every player gets a marker, hopper, goggles, nitrogen tank and 500 paintballs for the party. The company even offers downloadable invitations on its website to get teens in the mood for a day of paintball fun.
Texas Rock Gym
Many teens have a sense of adventure, and they can get their adrenaline pumping during a birthday party at the Texas Rock Gym. For three hours, teens can enjoy climbing the indoor rock walls throughout the gym. This challenging activity will get their hearts pumping. Parents can supply food and drinks for the teens to enjoy after they conquer the rock walls. The Texas Rock Gym offers downloadable invitations on its website as well.