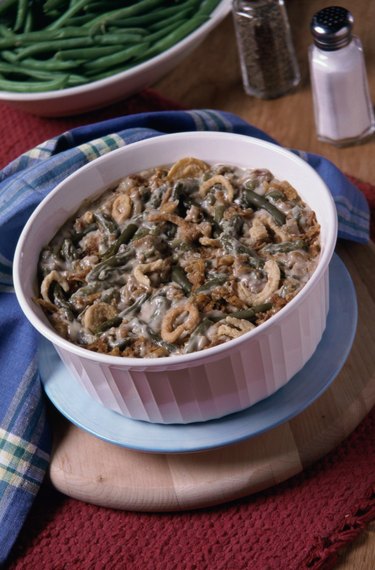 Cream of mushroom soup is a kitchen staple with many applications, so it's a wonder that those cans never seem to leave our pantry shelves. Many of the recipes that call for mushroom soup also happen to be simple yet satisfying, from classic casseroles to one-pot slow cooker meals. If you're wondering what to make for dinner tonight, dust off those cans of cream of mushroom soup and peruse your own pantry and freezer -- you'll probably have everything you need for an easy, comforting meal.
The Comfort Classics
Cream of mushroom soup makes an appearance in several classic comfort food recipes. The hallmark of each of these recipes, in addition to their use of condensed cream of mushroom soup, is their ease of preparation and short, inexpensive ingredients list. There's beef stroganoff, with strips of beef sautéed with onions in a sauce of cream of mushroom soup and served over egg noodles; green bean casserole, featuring the crunch of french fried onions sprinkled over green beans tossed in cream of mushroom soup; tuna noodle casserole, with tuna, peas and egg noodles combined with mushroom soup; and pork chops browned and then simmered in cream of mushroom soup.
Slow Cooker Recipes
Using the slow cooker and cream of mushroom soup, you can pull together a richly satisfying meal with almost no effort. You don't even need a recipe if you have a few basic ingredients on hand, such as chicken or beef, hearty vegetables like carrots or potatoes and a couple of cans of cream of mushroom soup. Beef pot roast lends itself well to this application, but start it early -- it takes up to 10 hours on low if you're cooking a 3-pound roast. If you're in a hurry, chicken pieces are a better option as they can cook in as little as three hours on high.
Other Casseroles
As with slow cooker dishes, you don't need a specific recipe for a casserole as long as you have a few key components. Cream of mushroom soup combined with bite-size pieces of cooked chicken breast, beef or sausage, mixed vegetables and egg noodles or rice makes a hearty one-dish meal. For added interest, you can top it with french-fried onions, crushed crackers or -- for extra indulgence -- shredded cheese. Casseroles can be vegetarian, as well. In addition to vegetables and rice or pasta, try adding lentils for protein and a little extra heft.
Other Uses for Mushroom Soup
Cream of mushroom soup makes a great gravy for pork chops, chicken, roasts or meatballs -- just thin the soup to the desired consistency with a little water, heat, and add some pan drippings if available. For a straightforward, stick-to-your-ribs dish, stir a can of cream of mushroom soup into a pound of browned ground beef or turkey over medium-low heat until well-combined, then serve over rice -- it's not gourmet, but it's delicious and filling. Finally, don't overlook the obvious: you can always just make mushroom soup.