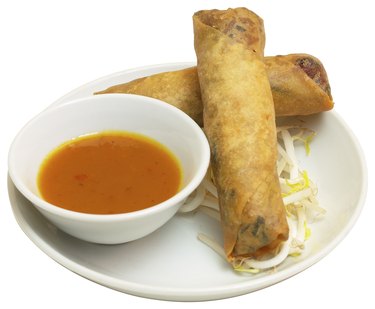 Making egg rolls from scratch at home allows you to customize the size or the filling ingredients, so that everyone gets just what they want. For a lighter, flakier egg roll, you can use phyllo pastry instead of traditional egg roll wrappers, although you'll need to cook the phyllo differently. But because you bake phyllo dough egg rolls instead of deep-fry them, they can be healthier than traditional egg rolls.
Phyllo Pastry vs. Egg Roll Wraps
Phyllo dough is a dough made from wheat flour and water that has been rolled and stretched to the point where it is thin as tissue paper. It is difficult to make from scratch, but you can find it frozen at most grocery stores or fresh in some Greek or Middle Eastern markets. Phyllo will be crisp and flaky when you bake it, and you use it in savory dishes like spanakopita, cheese and spinach pie, or in sweet dishes like baklava, a dessert with honey and nuts. Egg roll wraps are made from wheat flour, egg, oil and water, and are similar to pasta dough. Since the dough is thicker than phyllo dough, it is possible to make it at home, although you can also purchase it from the refrigerated or frozen section of many grocery stores.
Using Phyllo Dough
At first, phyllo dough can be intimidating to work with, because it is fragile and can dry out quickly. Frozen phyllo dough should be thawed slowly, preferably overnight in the refrigerator, before using. Keep your phyllo dough wrapped until you are ready to use it, and as you remove each sheet, cover the remaining sheets with plastic wrap or a cloth.
Egg Roll Fillings
When you're making your own egg rolls, the sky is the limit as to fillings. Often, you stuff egg rolls with shredded cabbage and carrots mixed with cooked shrimp or pork. This mix is then sautéed with ginger, garlic and oyster sauce. For a vegetarian version, substitute crumbled tofu for the meat and mushroom sauce instead of oyster sauce. Try adding other vegetables like celery, green onions, bean sprouts, water chestnuts or zucchini. If you're not a fan of cabbage, you can use cooked rice noodles, instead.
Making Phyllo Dough Egg Rolls
Prepare your egg roll filling and allow it to cool to room temperature. Drain off any extra liquid. Lay out a sheet of phyllo dough on your work surface, brush it with oil or melted butter or spray it with cooking spray, then repeat with two more phyllo dough sheets so that you have three sheets stacked together with oil in between them. Spoon about three tablespoons your filling on to the wrapper, roll it halfway up, fold in the sides, then continue rolling. Seal the dough with more oil or butter and lay seam side down on a greased baking sheet. Continue until you have used up all your filling. Bake in a 400-degree Fahrenheit oven for about 15 minutes, until the phyllo pastry is golden brown. Serve with sweet and sour sauce, chili sauce, or spicy mustard sauce.