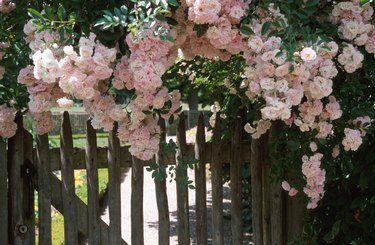 The large-flowered climbing rose "New Dawn" (Rosa "New Dawn") sprouted unexpectedly from the rambler "Dr. W. Van Fleet" in 1930. The long-blooming mutation featured the same pale-pink blossoms as the parent but demonstrated much greater tolerance of winter conditions. Since its introduction, "New Dawn's" reliability and the profusion of its flowers has won over most U.S. rosarians, who consider it the best of the repeating climbers.
Physical Traits
Beginning in May and lasting till the first frost, "New Dawn" bears flushes of 3-inch, fragrant, double flowers. Glossy, dark-green foliage provides an attractive contrast to the blush-pink blooms. Each flower can contain up to 36 petals. Since the rose flowers on old wood, prune sparingly. Orange-red hips appear after flowering for a display of fall color. "New Dawn" will survive over winter in U.S. Department of Agriculture plant hardiness zones 5 through 9.
Habits and Uses
The canes, which can grow to 8- to 12-feet long, are extremely pliable but not too thorny, making them easy to guide around any type of support. Besides filling a moderate-sized trellis, the rose looks great trained around a doorway, across a fence or up a pillar. The bright hips in autumn attract birds. Butterflies also visit during the long blooming season. "New Dawn" blossoms can be used to great effect indoors as cut flowers.
Distinctions
After its discovery the preceding year, "New Dawn" became the first rose protected by a patent on Aug. 18, 1931. The World Federation of Rose Societies inducted the variety into its Hall of Fame in 1997, when the rose won the popular vote by member countries. Conducted by the renowned Longwood Gardens in Kennett Square, Pennsylvania, a 10-year rose trial tested for disease resistance, drought tolerance and ease of maintenance, including not requiring supplemental fertilizers. "New Dawn" was one of only 24 varieties that passed the test and is grown today in Longwood's Idea Garden.
Family Tree
"Dr. W. Van Fleet," the parent of "New Dawn," remains available. Early in the crusade to breed better roses scientifically, the U.S. Department of Agriculture employed medical doctors, such as Dr. Walter Van Fleet. His namesake rose was one of his most successful hybrids. The mutation "New Dawn" spawned a worthwhile mutation of its own. Discovered by rose growers in Czechoslovakia, "Awakening" doubles the petal count of a "New Dawn" rose and assumes the classic form of an old garden rose. Though as healthy and winter-hardy as its forerunner, "Awakening" is more reluctant to climb.