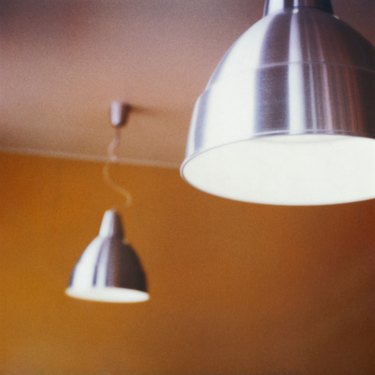 Sheetrock, also known as gypsum board or drywall, is a common interior finish for residential construction. It's a lightweight product with little load-bearing strength, and easily marked or damaged. It's possible to attach extra weight, such as fixtures, to Sheetrock ceilings -- but the material itself can't be relied on to support the load.
Sheetrock Material
Sheetrock is a brand name for gypsum panels -- or boards -- consisting of a gypsum core with a natural-finish face paper and liner paper on the back side. The face paper is folded around the edges to protect the core. Sheetrock panels are easily installed, though skill is required for taping the joints for a seamless appearance. The panels cover the framing and insulation of interior walls and ceilings, providing a smooth surface for painting.
Load-Bearing Capacity
Gypsum board is valued for its fire-resistance and versatility, but it's not a load-bearing material. The compressive strength -- resistance to pressure bearing on it -- of traditional 1/2-inch gypsum board is 400 pounds per square inch (psi), but the boards aren't rated for live and dead loads. Attaching weight in the form of fixtures directly to the ceiling, Sheetrock would add pressure in a localized area -- rather than distributing the weight or transferring the load throughout the material.
Studs and Fasteners
Usually weight isn't applied directly to the Sheetrock. Fixtures may be fastened to the studs behind the gypsum board, transferring the weight to the load-bearing part of the structure. The fixture may be manufactured with a supporting frame that spans the correct distance. Another method is to use a screw or bolt designed with a mechanism that expands as the fastener is tightened, or lock behind the wall. Load ratings for tension and shear are specified for drywall anchors and bolts.
High-Strength Gypsum Boards
Different types of gypsum boards, manufactured for institutional and commercial use, are stronger than the typical residential product, with improved resistance to surface damage. Plaster, the traditional wall covering before gypsum board was available, has compressive strength similar to concrete -- more than 2000 psi. Veneer-coat plaster can be spread and finished over gypsum boards for added strength and durability. The coating can reach compressive strength up to 4000 psi within a few days of installation.