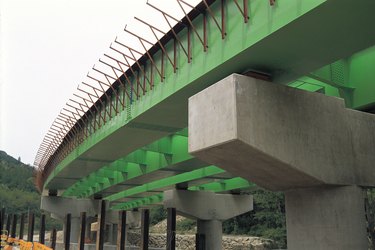 Concrete cutting involves a variety of techniques used by professionals to efficiently and safely cut large, square-or rectangle-shaped incisions into wall concrete or slab concrete. Core drilling is the process of making precise circular cuts in concrete to make smooth openings for a variety of applications. Many concrete cutting companies employ state-of-the-art diamond cutting technologies to make their work as precise as possible. A variety of methods are used depending on the application.
Uses
Concrete cutting is common in construction in which the chief material used is stone, terra-cotta, concrete brick or cemented concrete blocks. The method is used on a variety of projects. These include dams, piers and wharves, parking garages, nuclear power plants, sewage treatment plants, chemical plants, interstate highways and bridges. On a smaller scale, concrete cutting is performed to make or enlarge door, window and bulkhead openings, and to cut trenches for plumbing, sump pumps, drains, electrical conduit or other utilities.
Concrete Wall Sawing
Concrete wall sawing employs a circular blade on a track-mounted machine that can climb walls and cut ceilings. It is employed to cut walls between 16 inches and 36 inches thick. Uses include cutting openings in concrete foundations, lowering foundation elevation, and full wall removal. This procedure is highly skilled, requiring smooth plum and level openings and is more expensive than other concrete cutting methods. Concrete wall sawing is dustless, vibration-free and quiet.
Flat Sawing
Also known as slab sawing, flat sawing is used to cut horizontal surfaces such as floors, bridges and pavement. This process is sophisticated, cutting surfaces from 8 inches to 27 inches in depth to access below-slab water pipes, sewer lines and similar utilities. Other typical uses include sawing to create new machine foundations, highway patching, plumbing trenches, repairing runways and to create stairwells, elevator openings, expansion joints and decorative cuttings.
Core Drilling
Precise concrete core drilling to make perfectly round holes with diamond cutting tools is the most widely recognized application of the core-drilling type. Concrete core drill bits consist of steel tube with diamond segments on the drilling end. These are mounded on rotating shafts of core drilling blades that are powered by electricity or hydraulics. Drill bits range from a half inch in diameter to 72 inches.
Core drilling is used to take concrete samples and analysis of rocks and other strata, but more commonly to create openings for pipes, electrical wires and heating, ventilation and air-conditioning vents. Other uses include creating openings for fiber optics, telephone lines and computer lines.