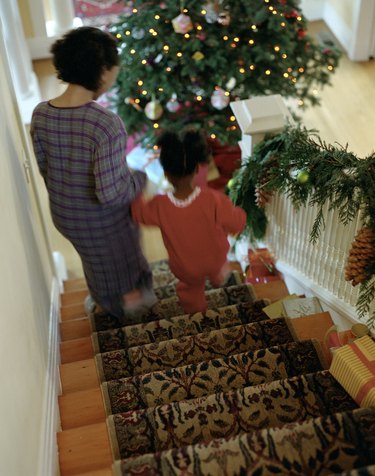 If you have wood stairs in your home, you can install a carpet runner to protect the stairs from scratches, weathering and discoloration from sun exposure. A stair runner also provides traction and prevents injuries due to falls. Stair runners are available in two standard widths, or you can hire a professional to create and install a custom-designed stair runner for your home.
Wide Standard 32-Inch Runner
Choose a wider carpet stair runner if you want to protect the majority of the wood surface and provide enough surface area for two people to walk up and down the stairs simultaneously. This Old House recommends a standard stair runner design of 32 inches. This width is available at most hardware stores, home improvement centers and carpet stores. Since most stairs have a 36- to 42-inch width, a 32-inch stair runner still provides 2 to 5 inches of visible wood floor space on either side of the runner.
Narrow Standard 27-Inch Runner
Select a 27-inch standard stair runner if you have stairs that are narrower than 36 inches or want a larger section of wood to show on either side of the runner. Since a stair runner is a continuous piece of carpet that runs the full length of a staircase, a 27-inch runner offers the visual appeal of a decorative stripe that accents the center portion of the stairs. This narrower strip may make it difficult for two people to keep their feet on only the carpeted portion of the stairs if they ascend or descend at the same time. Choose a patterned stair runner to reduce the appearance of footprints and dirt.
Runner Width Vs. Runner Length
Determine the width of your stair runner by evaluating the length of your staircase. According to Jacobsen Rugs, "There is a slight tendency for runner width to increase as runner length increases." The company also notes that it is common to install a runner that is at least 32 inches wide if the runner itself is 18 to 20 feet long. The added width helps balance the length and height of the staircase. Avoid cutting or splicing a standard stair runner if you don't have expertise blending, seaming and attaching carpet segments.
Custom Design
Hire a professional to create and install a stair runner if your stair carpeting needs don't coincide with standard width specifications. If your staircase is over-sized, circular or the stairs differ in width, you will likely need professional help to create a stair runner that fits your layout. For example, some stairs are wider near the bottom of the staircase where the stairs meet the landing. Ask the designer for advice regarding the stair runner width, pattern and type of carpet fabric. These factors help determine measurements that are best suited for the architectural features and layout of your staircase and overall home design.