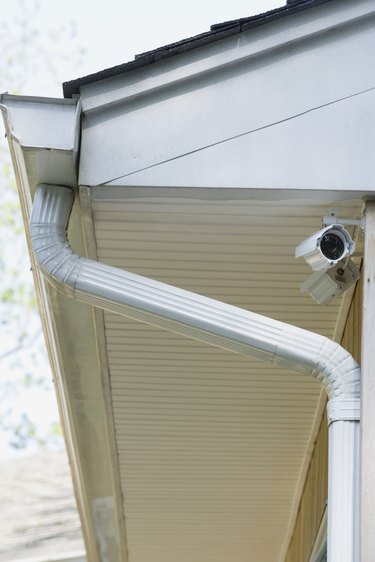 All roofs, whether they are shingled with asphalt, slate tiles or metal panels, require gutters of some type to help protect the walls of the home from runoff when it rains. Without gutters, the water will simply run back along the eaves of the house, eventually making its way down the wall of the home and damaging the exterior of the house. Gutters for metal roofs are exactly the same as any other gutter, and they install in the same fashion.
Materials
Regardless of what type of metal roof you have, there are numerous types of gutters you can choose from. A common material for gutters is aluminum, but you also can find gutters in copper, steel, vinyl and other composite materials. Your selection depends more on personal preference than anything else, as they are all comparable regardless of what type you are looking to purchase.
Design
You also have numerous styles to select from when it comes to gutters. While metal roofs are often paired with metal gutters, the style has more to do with the design than the function. For example, the most basic type of gutter is a half-round style, which is just a tube cut in half lengthwise. Fascia styles, on the other hand, are more boxy than round.
Mounting
Just like there are numerous selections for styles and gutter types, you also have to decide what type of mounting system you want to use. Undermount is one of the more commonly used, with L-shaped brackets holding the guttering in place, but there are other styles as well, some which are less visible, such as backmount gutters. Your gutter specialist can help you determine which style is best for your type of gutters.
Flashing
Regardless of what type of gutters you decide to use, flashing is just as important with metal roofs as it is with any other type of roof. Flashing protects the eaves of the home, and without flashing in place guttering is only partially protecting the home. Before you can install the gutters, the flashing must be in good condition and already installed, either during the installation of the siding or when the roof was installed.