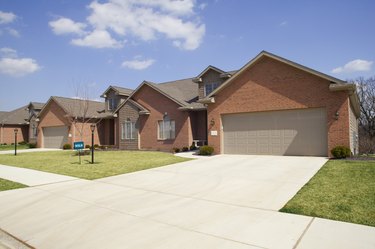 Neo-eclecticism is an architectural style also referred to as post-modernism. A reaction to modernism, neo-eclectic architecture rejects the modernist need to simplify and innovate, returning instead to traditional architectural precedents for inspiration. The style is known for sprawling, multi-story design, complex roof lines and large garages accommodating two or more cars.
Period Style
Renewed interest in historic preservation and classic American architectural styles around the United States bicentennial celebrations in 1976 helped launch neo-eclectic architecture into prominence. Neo-eclecticism covers several more specific house styles, including Neo-Victorian, Neoclassical Revival, Neo-Mediterranean, Neo-Tudor, Neo-French, Neo-colonial and Neo-Mansard. These postmodern styles borrow readily recognizable exterior elements such as porches, dormers, columns and gables from their namesakes, but do not closely follow the traditional interior layouts associated with the original style.
Nonfunctional Elements
The exterior design elements in a neo-eclectic house are not always functional. A one-story home, for instance, may have exterior roof dormers despite having no attic or second floor and, consequently, no corresponding interior room. Things such as columns and brackets beneath eaves generally serve only as decoration, with no structural importance. Interior detailing may suggest rustic post-and-beam construction when the house is actually built on a standard, modern wood frame.
Interior Styling
Most neo-eclectic houses have an open-floor plan with attached kitchen, dining and recreational areas. The ceilings are high -- usually 9 feet or more -- and often vaulted. Rustic interior design features with an arts and crafts feel, such as wood beams and paneling, are common. The homes are often two or more stories, and the upper floors take advantage of rising warm air, making them less expensive to heat than ranch-style houses.
Cookie-Cutter Design
It is unusual to find individually designed neo-eclectic homes. Most are built based on commercially available plans, with optional extras to individualize the finished product. Despite the relatively large number of available plans and styles, in "The Condition of Postmodernity: An Enquiry into the Origins of Cultural Change," Johns Hopkins University professor David Harvey criticizes postmodern architecture for turning subdivisions into monotonous tracts. Choosing a style appropriate for the lot size and surrounding architectural styles can minimize this complaint.