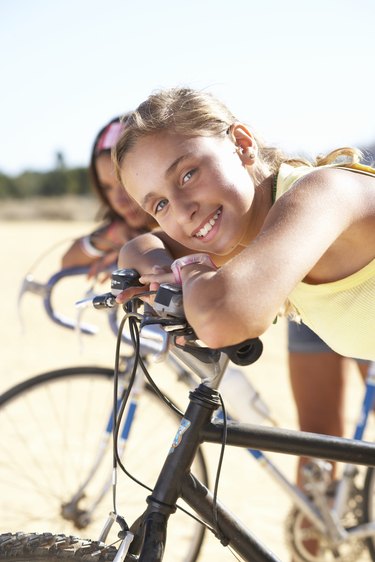 The typical 10-year-old girl is no longer interested in children's toys. She is just shy of her teenage years, and already stepping into prepuberty or puberty. Yet she is still a little too young for more mature, teenage birthday gifts. At this stage in her life, she has probably begun to value friendships more, parents less, and is in a rush to grow up. There are several gift ideas that take this into account and are popular with girls this age.
The Electronic Age
The preteen years are when many 10-year-old girls develop a fancy for electronics and communicating. A computer is at the top of many girls' birthday lists. For safety, you can deny Internet access on her computer or install software that blocks out inappropriate websites. There are also plenty of other gadgets to choose from: MP3 players, e-readers, cell phones, cameras and camcorders are all popular with girls this age. If purchasing a cell phone, keep track of calls by accessing the log on the phone, on the bill or online.
Designer Kicks
At this age, girls are becoming more fashionable and into name brands. There are several companies that will allow you to design a unique pair of shoes for her. Designs can feature her initials, favorite colors or patterns on it.
Crafty Preteens
Many 10-year-old girls enjoy making crafts. A bead or jewelry kit can mean hours of fun for girls who are creative. Combine art and fashion by purchasing a silk-screen kit or other kits for decorating jeans and T-shirts that are available in the toy section of most stores.
A Little Makeup
Many parents feel that a 10-year-old girl is not old enough for makeup, but she is probably interested in experimenting. There are kits for creating nail polish that will encourage her creativity, engage her interest in makeup, and keep her busy. A set of clear or light pink lip glosses is usually appropriate for a 10-year-old girl. There are also kits that she can use to add beads and colored extensions to her hair.
Fun With Friends
Ten-year-old girls love having fun with their friends. Buy her a karaoke machine or other game that will encourage play and time with her friends. Many board games are specifically marketed for preteen girls and focus around secrets, makeup, gossip and, of course, boys.