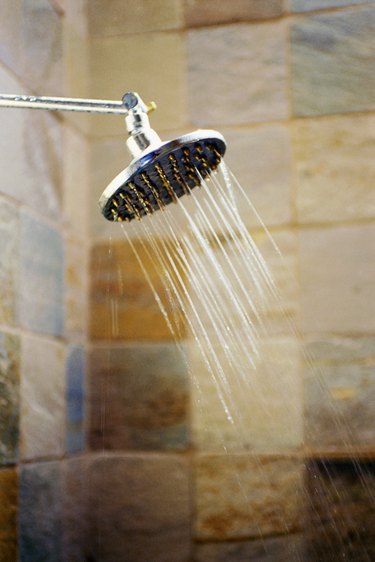 Installing a shower pan includes many steps, such as cementing the floor to create a sturdy base and installing the shower walls. When putting up your shower walls, be sure to follow the proper installation procedures to create a watertight seam between the shower pan and wall. Otherwise you risk rot and mold in your home.
Drywalling a Shower Pan
When you install a shower pan on the shower floor, you mount it directly to the wall framing, which is a series of 2-by-4 boards. You'll set and level the shower pan using shims right on the floor, or on a bed of cement mortar. Because the shower pan is screwed to the framing, there is no wall behind or below the base. Therefore, the drywall has to go in after the shower pan.
Why Install Drywall Last?
Installing the drywall last makes the shower more waterproof because it prevents the framing from absorbing water that otherwise would leak through the seam created by the wall and the edge of the shower pan. Installing the drywall underneath the shower pan doesn't make much sense, because this allows a small crease between the two structures, and water will always find a way into the tiniest creases and cracks. Since the drywall overlaps the edge of the shower pan, water is less likely to soak through the seam.
Shower Pan Designed for Drywall
The shower pan is actually designed to go under the drywall; it is made with a flange or lip along the top edge. This vertical lip extends up about an inch above the top of the sidewall, so when the drywall installs on top of the shower pan, there is substantial overlap. Water would have to travel up over the lip to get to the framing behind the shower pan, in order to do any damage. This reinforces the waterproof nature of the shower.
Tiled Showers and Fiberglass Walls
Fiberglass shower walls are adhesive-backed wall panels that fit onto the drywall and interlock with the shower pan. Some shower pans have them, others don't. On the pans without panels, tile is often installed on the drywall as a waterproof barrier. Whether you choose to install tile or the panel walls, drywall always goes on top of the shower pan, after the pan is set into the floor. Both tile and shower walls perform the same function, they just do so with different types of materials.