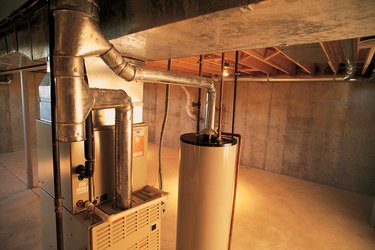 An unfinished basement doesn't mean that the construction process is finished; however, it does mean that the interior space is not a comfortable place to live in or hang out. While an unfinished basement often contains electrical systems, pipes, wires and water heaters, the space can still be used for storage.
Construction Costs
The construction cost will be lower if a homeowner decides to keep a basement unfinished. To construct a finished basement, contracts will need to ensure that the basement walls are insulated and meet the International Energy Conservation Code (IECC). While the insulation requirements for a finished basement will vary depending on the location of a home and climate in the area, insulation will raise the overall construction costs.
Pipes and Wiring
Homeowners who want to finish a basement will have to install drywall and cover the pipes and wiring. If damage occurs in the pipes and wiring, an unfinished basement may be advantageous for repair workers. While workers can obtain access by removing a portion of the wall, an unfinished basement offers immediate access, which can reduce cost and allow problems to be fixed in a more timely manner.
Flooding
While having a finished basement will offer families an extra room to hang out, watch television or play games, it can also bring heartache if the basement floods. Floods can occur because of excess rain or a backed up sump pump. With a finished basement, homeowners need to worry about couches, carpeting and electronic devices being ruined. While flooding of an unfinished basement can be inconvenient, it may be less devastating than with a finished basement.
Possibilities
An unfinished basement leaves open the possibility of turning the location into a room or rooms. Because of the cost of finishing a basement, homeowners must be sure of what type of room they want. A family's circumstances may change over time, and turning the basement into a bar may not remain viable as children grow up and situations change. Possible careers can also dictate basement options. An unfinished basement leaves open the possibility of turning the room into an extra bedroom, game room, living space, library, fitness room or music studio.