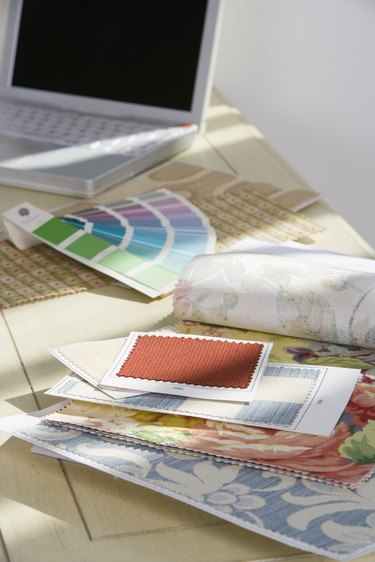 Pressed wood furniture is typically found in retail shops that sell large volumes of furniture that must be assembled by the consumer. These are affordable pieces but have a generic quality that begs for customization. This furniture can be customized by painting it before you begin to assemble it for a one-of-a-kind home décor item. By using the right kind of paint, you can afford to personalize your living space.
Pressed Wood Basics
Furniture made from pressed wood comes in a variety of functions. Chairs, tables, desks and dressers are typical pieces found in pressed wood. This material is made from wood pulp that is pressed into lengths of lumber and held together with resin types of glue. A thin wood veneer is applied as a final layer on the wood. The veneer comes in a variety of options from walnut and birch to cherry and oak. It is very thin and can only take minimal sanding because you may end up going through the veneer into the pressed wood. Additionally, stains will not work well on pressed wood because of the myriad of chemicals used in the processes of making this material.
Selecting Paint
When choosing paint, opt for opaque colors instead of transparent, which may go on unevenly while solid colors create a heavier coat and will hide blemishes. You have a few paint options. Due to fumes and overall cleanup from oil-based paints, you may want to stick to water-based paints. Oil-based paints are much less forgiving with mistakes and take longer to dry. Acrylic or latex paints, which are water based, are the easiest paints to use.
Choosing the Application
Latex and acrylic paints come in the brush-on variety as well as in spray cans. Your choices in color are much larger with brush-on paint that can be customized at your local paint center. Spray paint cannot usually be customized, so you are left to the selection at the store. Additionally, brush-on paint has more options in the final finish, from flat to satin and high gloss.
Painting Technique
Thin coats of brush-on paint should be applied and allowed to dry for at least an hour before a second coat is applied. Both spray and brush-on will drip if the application is too thick. A high gloss finish is one of the easiest to maintain and is also easy to wipe down. Dust will not stick to it, and a dampened cloth is usually all that is needed for cleaning.