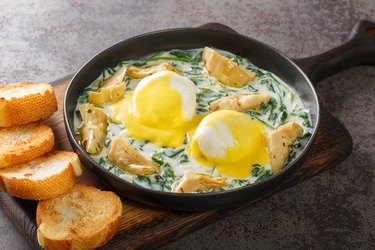 It's hard to pronounce, perhaps, but Tchoupitoulas (chaa-puh-too-luhs) sauce has a fascinating history and is a real delicacy. It is not that difficult to make and graces dishes made with vegetables, chicken, pork, meat and fish. If you can't remember how to say it correctly, just shorten it to "Tchoup" or "chop."
Tchoupitoulas sauce is a type of sauce often compared to a hollandaise or bearnaise, and it's typically a spicy sauce used with many meat dishes. There are many types of Tchoupitoulas sauces, and many different New Orleans cooks have their own recipes.
Tchoupitoulas Meaning in History
If you're familiar with the history of the United States, you may have guessed that Tchoupitoulas was the name of a Native American tribe. The particular tribe after which this sauce was named was from an area in what now forms the state of Louisiana. The original name was côte des Chapitoulas, which is a Choctaw word that translates as "those who live by the river" in English. A French Quarter street in New Orleans was named in their honor, and this busy thoroughfare runs by the Mississippi River.
Tchoupitoulas Street is a bustling road and is where you can find many of New Orleans' favorite hot spots, like the Tipitina historic music venue. There are also plenty of outstanding restaurants, like Mother's and Emeril's, plus hotels in different price ranges. It's not surprising that this tribe and street have a legendary sauce named after them, although it is challenging to pinpoint the exact origins.
Types of Tchoupitoulas Foods
A simple Tchoupitoulas sauce starts with butter or a butter and margarine base along with other ingredients like lemon juice, cayenne pepper, Cajun seasoning and diced vegetables. It is often compared to hollandaise or bearnaise sauce, and you can adjust the seasonings as desired; many are hot and spicy. You can leave out the fiery ingredients if you prefer mild flavors. The best thing about Tchoupitoulas sauce is that it is very versatile, and you can bet that most cooks who are based in New Orleans have their own versions.
To make a Tchoupitoulas sauce at home, melt the butter first. You can blend lemon juice and egg yolks in a blender for 30 seconds, turn the speed down to low and keep it running as you slowly drizzle in the melted butter. You can turn off the blender, taste the sauce and continue adding ingredients and sampling it until you have the right consistency and flavor. It can be cooked with your main dish or added at the end.
More Tchoupitoulas Recipes
You don't need to use a blender to make Tchoupitoulas sauce; you can also make it right on top of your stove. For shrimp Tchoupitoulas, melt your butter in a large sauté pan and add in shrimp, clam juice, garlic and Creole seasoning. Once the shrimp is pink, add in some scallions, parsley and mushrooms. Then, you'll want to sauté for a few more minutes, add two more ounces of butter and stir until creamy. This dish goes well with orzo, rice and French bread.
You can make poulet (chicken) Tchoupitoulas in a similar fashion, or you can go all out by adding more ingredients, like spicy andouille sausage, Worcestershire sauce, eggs, fresh corn kernels and plenty of garlic. You can thicken the sauce by adding heavy cream. This dish is so flavorful that you might want to eat it right out of the pan after it is cooked!