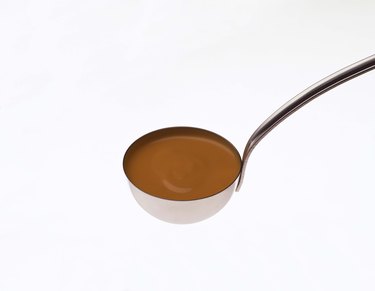 Plain, ordinary foods can come alive with taste and flavor with the addition of simple sauces. For example, traditional poached eggs and English muffins take on an entirely new flavor and look with the addition of Hollandaise sauce. So it is with Tchoupitoulas sauce. Adding it to your favorite meats and fishes will give your culinary creations an extra boost of palette-pleasing taste.
Ingredients
The base ingredients of Tchoupitoulas sauce are butter or a butter/margarine mix, Cajun seasoning, and cayenne pepper. Other ingredients are added, depending on the flavor desired or the meat or fish used. For example, some may add a dash of paprika to give the sauce a red color, or several capers to give it a distinct taste. Others may add red or green peppers, onions, or salt and pepper for extra spicy flavor.
Cooking Directions
Specific measurements of ingredients vary from recipe to recipe, but the preparation is basically the same for most dishes. The butter is usually melted in a saucepan and then the additional items items such as the cayenne pepper and and Cajun seasoning are added and sauteed over medium heat. If vegetable items are added, continue to saute the mixture until the vegetables are soft. Proceed with the remaining recipe details for an elegant dish your family and friends will enjoy.
Types of Entrees
Tchoupitoulas sauce is a tasty addition to many meat dishes, including fish such as halibut, trout or salmon; veal chops; shrimp; chicken and oysters. It is often served in conjunction with other popular sauces such as Bearnaise. It can be served directly on the meat item or offered on the side in a gravy boat or small bowl. It can even be used in pasta and shrimp entrees for a taste that diners will love.
Other Sauces
Other sauces to try with meats and fishes are beurre blanc, Mornay, picatta or Marsala sauces. They are elegant main dish additions that will make a plain, ordinary meal a gourmet adventure. Beginning your culinary experience with the Tchoupitoulas sauce may inspire the beginning cook to try other succulent sauces. If learning to make new and different dishes for your family is intimidating, try a cooking class at a local culinary school or visit your gourmet grocery store when food demonstrations are held for patrons.