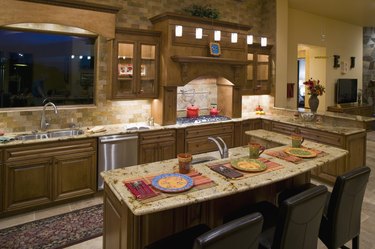 Not having enough electrical plugs, otherwise known as outlets, can be frustrating to a modern cook. Using an extension cord to reach the nearest outlet with your mixer or electric griddle can be downright dangerous. Of course, no quantity of outlets will do much good if they are mounted at the wrong height. Making sure your kitchen counter outlets are at the correct height is critical when planning electrical outlet placement for your home. Make sure your kitchen counter electrical outlets are within easy reach, both for safety's sake and to avoid code violations.
Kitchen Outlets
Electrical codes require more outlets per foot in the kitchen -- one for every 4 feet of counter space and for every 12 feet of wall space -- than anywhere else in the home. This is especially true for the kitchen counters, where several high-power small appliances may be plugged in and in use at one time.
Height of Outlets
Although there is no set height that an outlet over the kitchen counter must, there are limitations as to the maximum height of their placement. Outlets can be mounted just above the standard 4-inch countertop backsplash in the wall and up to a height of 18 inches above the countertop surface, according to the National Electric Code. If outlets are mounted at the maximum height allowable, the space allowable between each outlet may shrink, requiring more outlets to be installed. The idea is that a small kitchen appliance placed anywhere on the countertop with a 24-inch power cord should reach an outlet without using an extension cord.
GFCI outlets
As of 2011 all new homes come with ground fault circuit interrupter outlets over the kitchen counters. Some homes may even have a GFCI circuit for this purpose. This type of setup protects the whole circuit, not just the individual outlet. GFCI outlets have been required in new construction by the NEC since 2008 should be installed during kitchen renovations.
Electrical Codes
Your local electrical codes should be the last word in the height, quantity and type of outlets installed over your kitchen counters. It can be an expensive endeavor to have to correct electrical work that has been completed in error. Some states require that all electrical work be done by a licensed electrician -- something to keep in mind when budgeting for a kitchen overhaul.