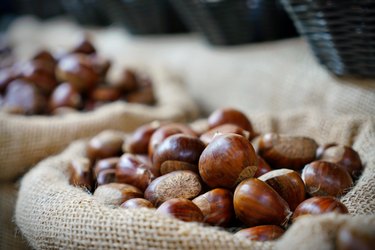 Choosing plants and trees for your property can have long-term effects, which is why it's crucial to learn the characteristics of those plants. While their names are very similar, there are distinct differences between a filbert tree and a chestnut filbert. Knowing the distinctive characteristics can help you decide which tree is the best for you and your yard.
All About the Filbert Tree
What is a filbert tree? A filbert tree (Corylus avellana) is another name for a hazelnut tree, but it is actually a multistemmed shrub. The hazelnut tree grows best in USDA hardiness zones 4 through 9. At maturity, a filbert tree stands between 15 and 18 feet tall and 10 to 12 feet wide. It won't take long to get there; this fast-growing plant can gain 2 feet in a year.
A hazelnut tree needs at least four hours of sun daily, though ideally, it should get six or more. It isn't picky about soil or drainage, and its massive root system is relatively drought-tolerant. Humans aren't the only ones who enjoy hazelnuts; these trees may attract squirrels, deer, woodpeckers, quail and other types of birds and wildlife.
What does a hazelnut look like? Filbert nuts are spherical or slightly oval with a flat edge, and they fall from the husk when ripe. Typically, it takes two or three years after planting or eight years after germination for filbert trees to produce hazelnuts. Once they start, you can harvest them annually in September or October. You'll want to plant multiple trees to facilitate cross-pollination to ensure a good harvest.
What Is a Chestnut Filbert?
What is a chestnut filbert tree? Chestnut trees (Castanea dentate) are distinctly different from hazelnut trees, and the nuts aren't the only part of these trees that set them apart. First, they're deciduous trees and grow much taller than filberts. Certain species can reach an incredible 100 feet tall. For cross-pollination to take place, you also need more than one chestnut tree in the vicinity.
Unlike the filbert nut, chestnut filbert nuts need acidic, well-drained soil that is deep and sandy. They also need plenty of water if you want a good harvest, though the trees can survive a drought. The trees begin producing nuts after about seven years and can live for centuries. Chestnuts are very starchy and have been used as a substitute for potatoes and flour.
Unfortunately, over 80 years ago, a blight killed most American chestnut trees, destroying their viability as a commercial species. While the horse chestnut survived this blight, its nuts aren't edible.
Chestnut vs. Hazelnut Trees
One of the most significant differences between these trees is the size. Filbert trees are small, while chestnuts are enormous. If you want to grow a chestnut tree, you need to make sure you have a lot of space.
Despite the differences in size, they both begin producing fruit (nuts) after about seven or eight years depending on environmental conditions. Both trees also have the same ideal growing zones: USDA hardiness zones 4 through 9. If you live in the Central or Western United States in these zones, you could have both in your yard.
When it comes to the chestnut vs. the hazelnut, the chestnut is starchier and derives more energy value from carbohydrates, while the hazelnut is fattier. Their rich taste makes them perfect for sweet desserts, where they often appear on the menu. If you're considering planting one to eat the nuts, think about whether you'd rather have a large tree producing a staple food or a smaller bush that grows a delicacy.