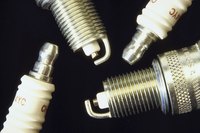 Gas-powered lawn mowers work with a spark plug that ignites the engine. Depending on your brand and model, the spark plug may be located along the back of the engine or on the front, but is easy to identify by the wire clipped onto its tip. When it's time to tune up the engine or install a new plug, the easiest way to buy the correct size is to take the old plug with you to a small-engine shop or auto parts store. If the plug is lost, there are other ways to determine the correct replacement.
Pull the wire and rubber cap off the tip of the old spark plug installed on the engine.
Unscrew the old plug with the spark plug wrench.
Take the part with you to the store for a replacement, or write down the number printed around the top of the white, ceramic insulator on the plug.
If you don't have a spark plug, write down the make and model of the mower as well as the make and model of the mower engine. For instance, some mowers sold by Sears under the Craftsman brand name are equipped with Briggs & Stratton engines. The engine model number is printed on a plate bolted to the side of the engine block. Take the engine information to the store to match up with the correct spark plug size.