Things You'll Need
Liquid dish soap

Bowl

Soft white cloth

Lighter fluid

Bleach

Furniture polish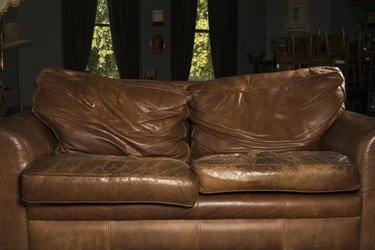 Naugahyde, sometimes called artificial leather, is a vinyl fabric that looks like leather. It is a less expensive alternative to leather furniture and upholstery. Some consumers opt for Naugahyde over leather not just because of the cost, but because it isn't made from animal skins. Sometimes Naugahyde needs a light cleaning, yet for stubborn stains, harsher cleaning solutions are necessary.
Step 1
Combine water and liquid dish soap in a bowl, at a ratio of 1 part liquid soap to 10 parts water.
Step 2
Dip the cloth in the soap solution and use it to wash the Naugahyde.
Step 3
Rinse the Naugahyde with clean water and dry.
Step 4
Moisten a white cloth with naphtha type lighter fluid, for a stubborn stain. Stay away from an open flame and work in a well-ventilated area. Test this on an inconspicuous area before using the lighter fluid.
Step 5
Clean the area with the soap solution to remove any lighter fluid residue.
Step 6
Rinse the Naugahyde with clean water and dry.
Step 7
Combine bleach with water, at a ratio of 10 percent bleach to 90 percent water and use it to remove any stains that remain. Rub gently, and rinse with water and dry. Test this method first on an inconspicuous area before trying.
Step 8
Spray the exterior of the Naugahyde with furniture polish to give the surface luster. Allow the furniture polish to soak into the Naugahyde for about 30 seconds.
Step 9
Buff the Naugahyde with a dry cloth, to remove the polish and give a luster to the Naugahyde.
Warning
Don't use a paper towel to clean Naugahyde, use a soft white rag.