Things You'll Need
Bowl or jar

Colander

Stockpot with lid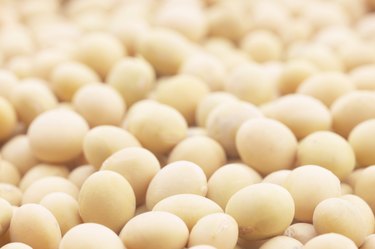 Chickpeas, also known as garbanzo beans, have a sweet, nut-like flavor. The beans are high in fiber, protein and iron. Chickpeas often are purchased dehydrated because it extends their shelf life, so you'll need to rehydrate them before eating or using them in a recipe. Soak the beans in water overnight if you have time, or rehydrate them quickly with the aid of boiling water. A single cup of dry chickpeas will yield 2 to 3 cups of cooked chickpeas.
Overnight Soak
Step 1
Weigh the desired amount of chickpeas. Each 1 lb. of chickpeas will require 10 cups of water.
Step 2
Place the chickpeas in a bowl or jar. Cover them with cold water.
Step 3
Allow the chickpeas to soak for six to eight hours or overnight in the refrigerator.
Step 4
Strain the chickpeas to remove the water. Rinse the chickpeas.
Step 5
Cook the hydrated chickpeas immediately.
Quick Soak
Step 1
Pour 1 lb. of chickpeas into a stockpot.
Step 2
Add 6 to 8 cups of water to the chickpeas.
Step 3
Bring the water to a boil. Cover the pan. Boil the chickpeas for two minutes.
Step 4
Remove the chickpeas from the stovetop. Allow them to cool covered for one hour and no longer than three hours.
Step 5
Drain the water from the chickpeas. Rinse the chickpeas under cool running water.
Tip
After boiling the chickpeas, place them in the refrigerator overnight. This breaks down the sugars that cause gas.
If you cannot measure the chickpeas, the rule of thumb is to use twice the amount of water as beans.
Warning
Avoid adding salt to the chickpeas while they soak because it can toughen them.