Things You'll Need
Instant coffee

Measuring cups

Water

Measuring spoons

Vanilla extract

Small bowl

Wooden spoon

Container

Fabric

Iron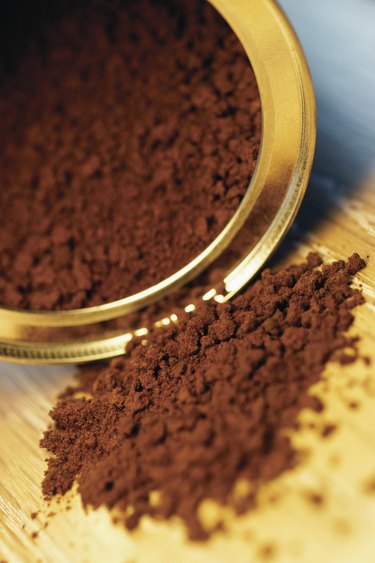 Primitive or country fabric crafts often have a grungy or antiqued appearance to make them look authentically old and the ingredients to achieve this effect are common staples found in most kitchen cupboards. Mix a coffee stain to make your fabric crafts look old. Coffee stains will provide a mottled, speckled or all-over solid stain depending on the application process used. It can be applied to finished fabric projects or fabrics yet to be used.
Step 1
Mix a heaping 1/3 cup instant coffee granules, 1 cup boiling water and 2 tablespoons vanilla extract in a small bowl. Allow the coffee granules to dissolve.
Step 2
Pour the mixture into a container large enough to accommodate the amount of fabric you wish to stain. The fabric should be able to move freely within the container. Add additional batches of the coffee stain liquid until you have enough for the fabric to be completely submerged.
Step 3
Soak your fabric, then squeeze out the excess water. Shake out the wet fabric.
Step 4
Submerge the wet fabric in the coffee stain mixture. Using a wooden spoon, stir the fabric in the container. Allow the fabric to soak until it has achieved the desired shade. This could take 5 minutes or several hours.
Step 5
Wring out the fabric when it has reached the level of darkness you want. Do not rinse the fabric as this will lighten the fabric considerably. Hang the fabric on a clothesline to dry.
Step 6
Iron the dried fabric to set the dye.
Tip
For best results, dye fabrics that contain 100 percent natural fibers. If aging a completed fabric item, mix the stain as directed and dab it on the fabric using a sponge. Allow the item to air dry or place it in the oven on a warming temperature. For a more mottled or textured look, fill a spray bottle with the stain mixture and spritz the fabric. If dyeing fabrics that will be laundered, a manufactured dye is recommended.