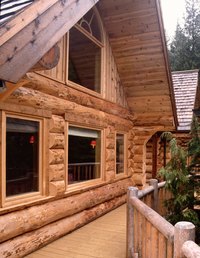 Log cabins are made of a natural material that requires the protection of a stain to keep it from becoming damaged by the elements. Fully restoring a log cabin requires you to strip the wood of its old stain and apply a fresh stain. Don't be tempted to skip a step because the logs look nice. The stain is more than decoration, it protects your home against costly damage.
Things You'll Need
Pliable caulk
Backer rod
Machine to blast the old finish from the logs
Ground corn cob or dry ice pellets
Pressure washer
Stain
Brushes
Inspect your home prior to re-staining. Walk slowly around the perimeter, checking for cracks in the wood. For small cracks, use a pliable caulk to fill it. This type of caulk is designed for log homes, comes in colors to match your stain and will move with your home as the logs expand and contract with the weather. Larger cracks need to be filled with a backer rod prior to caulking. Backer rod is a is a soft foam strip you can cut to fit in the hole to help the caulk to its job.
Wash dark spots on the wood with bleach water to remove any mold or mildew. Rinse the bleach water off and allow to dry before continuing with your re-staining. If any of the wood has become soft, contact a professional. Replacing a rotten log is not a do-it-yourself job.
Use a pressure washer set to not greater than 500 psi to wash the logs. This will allow you to get rid of any dirt and debris before re-staining. Keep the nozzle at a 15 to 20 degree angle. Using too much direct pressure may damage the wood.
Remove the old finish. This is usually done by blasting the walls with ground corn-cob or dry ice pellets using a rented machine. You'll need ladders and scaffolding to reach all areas of your home. Evaluate whether it might not be more cost effective to hire this job out to a contractor. Dry ice pellets have the advantage of evaporating, so that they don't leave a mess. Corn cob is cheaper, but very messy.
Sand the surface of the house with a random orbit sander. This tool moves continuously, so it will not damage or mark the logs. This step removes any finishes from the crevices in the wood.
Brush stain onto the prepared logs. Be generous, as the stain soaks into the logs and protects them against the elements. Brush the stain on in one direction, and then back brush in the opposite direction to fill in every crevice in the wood. For best results, stain in the morning or on cloudy days, as the sun dries stain very quickly. Apply two coats for the best protection for the logs.