Things You'll Need
Brick

Trowel

Mortar

Level

Two nails

Mason's line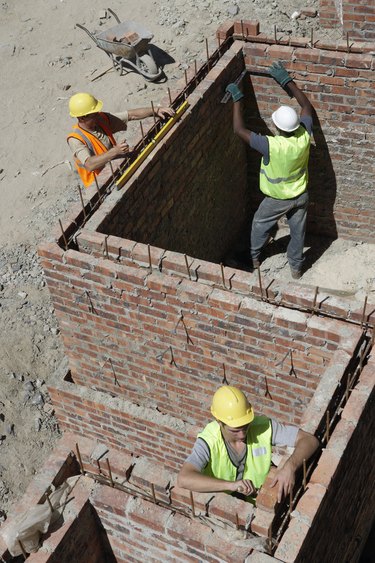 Brick adds insulation and resale value to homes, but only when they are properly emplaced. Many people think laying bricks on their own is too difficult. Brick laying does require skill and practice, but homeowners can lay brick with the right preparation. Laying level lines of bricks is essential to good bricklaying. With a few tools, you can ensure your brick line ends up level.
Step 1
Lay one course (also called a row or line) of bricks. The foundation should already be level, but check the first course of bricks with a level to be sure. Tap on the tops of high bricks with a trowel handle to level them out. Level bricks before the mortar dries.
Step 2
Lay a brick on top of each end of the first course of bricks. These end bricks will hold the line to lay the second course of bricks.
Step 3
Place a 4- or 6-inch nail in the mortar between the first and second course bricks. Insert the nail at the outside edges of the end bricks so they point toward each other. Be careful not to move the bricks when inserting the nails. Wet mortar makes inserting the nails fairly easy.
Step 4
Tie Mason's line to one nail. Run the line over the brick, along the line of bricks to the other end brick and tie the line to the second nail. The line now rests level where the tops of the bricks in the second course should rest.
Step 5
Remove the nails when the second course of bricks has been laid. Repeat the string-laying process for each course of bricks.
Tip
Get an experienced friend to help until you get the hang of running the line.
Warning
Starting with an uneven first course of bricks causes problems that will get worse with each successive course.