Things You'll Need
Styrofoam cups, any size

Cookie sheet

Oven mitts or pot holders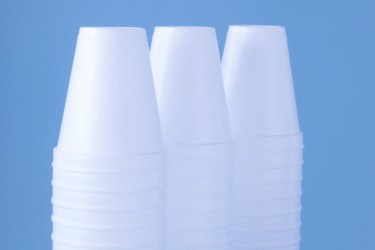 Kids love to do unusual and fun crafts; making hats out of Styrofoam cups fits in both categories. These hats make excellent table decorations for Thanksgiving or St. Patrick's Day. You can also decorate them to wear as pins or to be worn by dolls. This craft does require an adult's help with the hot oven. The use of simple Styrofoam cups makes this a very inexpensive project to complete.
Step 1
Preheat the oven to 250 degrees.
Step 2
Place the Styrofoam cups upside down on a cookie sheet. They should be at least 2 inches apart so they don't melt into each other.
Step 3
Put the cookie sheet in the oven and turn on the oven light. You need to sit by the oven and watch the cups as they melt so they don't melt too much.
Step 4
Remove the cookie sheet when the cups have gotten to a melted state you like. Use the oven mitts, as the cookie sheet will be hot.
Step 5
Allow the cups to cool completely before removing them from the cookie sheet. They will release easier when cool, plus you run the risk of squashing them if you remove them while they are warm and malleable.
Tip
You won't see any change in the cups for at least a minute; after that, they melt quickly. Decorate the Styrofoam cup after it has cooled; black or grey paint is appropriate for pilgrim hats and green for St. Patrick's Day. Glue a shamrock to the brim and glue or paint a ribbon around the brim. Use your imagination when decorating the hats.
Warning
Do not let small children handle the hot oven or cookie sheet.