Things You'll Need
Acid dye powder

White vinegar

Washing machine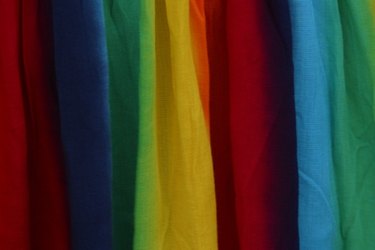 Chiffon is a light, airy fabric usually made of polyester or silk. While polyester chiffon cannot be dyed, silk chiffon takes dye beautifully. You can use all-purpose drugstore dye with silk chiffon, but for the best results and brightest color without dulling the sheen of the silk, acid dyes are ideal. Basic white vinegar acts as a fixative for acid dyes, allowing you to dye your silk chiffon dress with a minimum of toxic ingredients.
Step 1
Fill a sink or bucket with enough undiluted white vinegar to cover the dress. Wet the dress with water, squeeze the excess water out and soak the dress in the undiluted vinegar for 30 minutes.
Step 2
Set the washing machine to the delicate cycle with a hot wash and cold rinse. Fill the machine with just enough hot water to cover the dress. Pour in 1 cup of white vinegar.
Step 3
Add 7 to 8 grams of dye to the wash water to achieve a medium shade on light fabric. Most powdered acid dyes are sold in 15-gram jars, so use roughly half a jar. Use more dye for darker colors, less for pastels. Allow the machine to agitate for one minute to fully mix the dye.
Step 4
Add the vinegar-soaked dress, still wet, to the machine. Allow the machine to run through the full cycle.
Step 5
Remove the dress from the machine. The color will be slightly darker when the fabric is wet than when it is dry. If you are satisfied with the shade, wash the dress in the delicate cycle with wool wash and hang it to dry. If you want darker results, or if the dye is uneven, repeat the process until you achieve the desired color.