Things You'll Need
Lifting Slings

Chain Slings

Vertical Pipe Clamps

Chains

Tape measure

lifting pads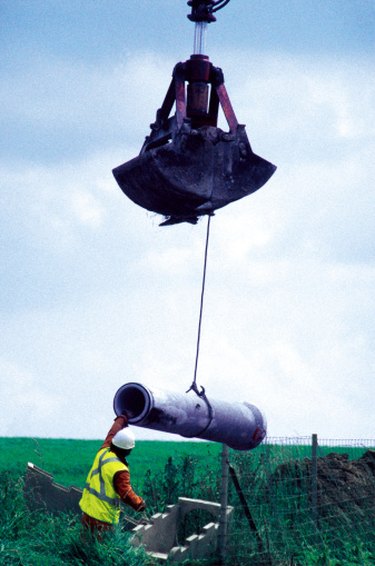 In industrial construction, renovation or demolition, lifting a large, cumbersome pipe can present many logistical challenges. Often, removing an old pipe is much more difficult than moving a new one. Older pipes may be structurally unsound, making removal unpredictable and dangerous. There may also be space constraints, as in a narrow trench, that require specialized equipment. Since so many variables are in play, there are a number of sling pipe-lifting options that prepared heavy contractors should be ready to employ.
Horizontal Pipe
Step 1
Measure and mark the exact center of the length of pipe. This will be the lifting point. Make sure the mark is exact, as any deviation could make the pipe unbalanced and cause it to slip from the sling.
Step 2
Wrap the lifting sling around the pipe at the center mark. For added stability and to prevent scratches, place a lifting pad between the sling and the pipe. Attach lifting sling end loops to the lifting crane.
Step 3
Test the placement of the sling by slowly lifting the pipe until supported only by the sling. If the pipe remains level, the placement is good.
Vertical pipe
Step 1
Attach three vertical pipe clamps to the top rim of the pipe. They should be as evenly spaced as possible. Be sure that the combined weight rating of the clamps exceeds the weight of the pipe.
Step 2
Attach chain sling hooks to each of the vertical pipe clamps. Count the links on each of the chain sling extensions to ensure a level lift. Attach the chain sling to the lifting crane.
Step 3
Test the clamp and chain sling attachment by slowly lifting the pipe until the weight is supported by the lifting rig. The pipe should be plumb and there should be no movement or twisting of the clamps.
Tip
According to U.S. Cargo Control, though more expensive than nylon or polyester, chain and wire lifting slings are strong, flexible, long-lasting and have high abrasion resistance.
Warning
Always verify that the weight of the pipe does not exceed the maximum lift limit of the lifting sling chains and clamps.
Older pipes may be structurally unsound due to corrosion or cracking. Stay clear of the lift zone when moving existing pipes.