Things You'll Need
String

Floral scissors

Dark, warm location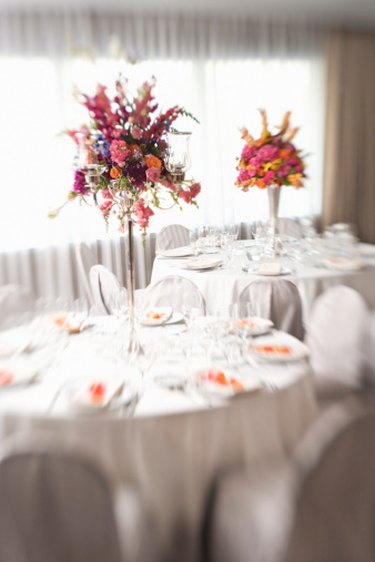 Amaranthus are a group of annual herbs that gardeners grow for both ornamental and edible purposes. These shrubs grow between 2 and 8 feet tall and enjoy full sun but can also tolerate drought conditions and poor soil types in your garden. Amaranthus flowers are popular for dried arrangements because they may grow as erect or hanging varieties, depending on the species of plant. You can dry these flowers at home before using them in a dried floral arrangement.
Step 1
Select amaranthus flowers that are at full bloom from your garden or a local nursery.
Step 2
Cut the flowers from the plant leaving a long stem.
Step 3
Trim the leaves from the stems to prepare the flowers for drying.
Step 4
Group the flowers into small bunches and tie them together with a long string. You can also dry each stem individually if the bunches will crush or distort the natural shape of the blossoms.
Step 5
Hang the flowers upside down in a warm, dark, well-ventilated location such as an attic or closet. Leave the flowers undisturbed for two to three weeks.
Step 6
Feel the flowers and check for moisture. If the base of the flowers is still moist, allow the flowers to hang for another week and check them again. Once fully dry, the flowers are ready for use in a floral arrangement.
Tip
You can dry erect varieties of amaranths upright by placing the stems in a container in a warm, dark location.
If you want the hanging varieties to dry with a curvature, lay the flowers over a curved piece of cardboard, plastic or book rather than hanging them upside down.