Things You'll Need
Leaves

Phone book

Paper towels

Canvas

Digital Camera

Craft glue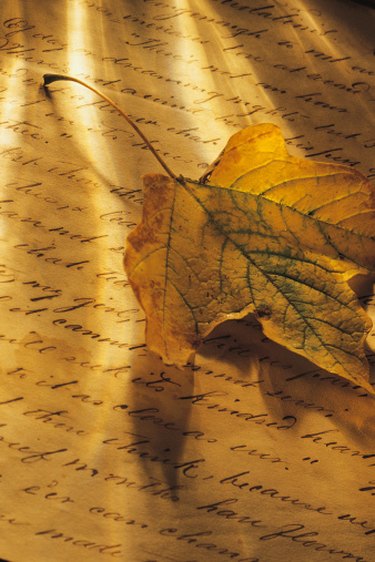 Create a unique work of art that reflects upon the beauty of nature. Instead of painting leaves, try installing real leaves onto the canvas. One of the biggest concerns with using organic matter as art is that it will deteriorate over time. If you're creating the leaf artwork in the autumn, when the leaves are dried out you will not encounter the problem of having the leaves decay after they are placed on the canvas. If you're creating the work in the spring or summer you will have to dry the leaves before beginning the art project.
Step 1
Go for a walk in your garden or through a deciduous forest. Gather leaves that you find visually interesting. Collect a few more leaves than you think you will need for the project, just so you won't have to stop and gather more later.
Step 2
Brush off any dust, dirt or debris from the leaves. If you have fresh leaves, place them between paper towels and insert them between the pages of a heavy book, such as a phone book, to press them and prevent decay. Wait five to seven days before removing the leaves from the book. If you have dried autumn leaves, you may skip this step.
Step 3
Arrange the leaves on a blank canvas to create a leaf collage. Try to mix different colored, textured and shaped leaves together to create a visually interesting piece. Add sticks, if desired, to add dimension to the picture.
Step 4
Take a picture of the leaf arrangement, using a digital camera. Carefully remove all of the leaves from the canvas.
Step 5
Place a bead of craft glue on the back of each leaf and place it on the canvas, using the digital picture as a guide.
Step 6
Allow the glue to dry completely before transporting the artwork.