Things You'll Need
Sponge

Distilled white vinegar

Baking soda

Dishwashing detergent

Kitchen towel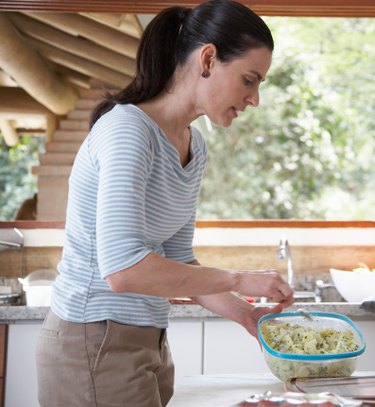 Plastic containers conveniently and securely store leftovers and fresh food but have a tendency to retain grease from the food. Using a plastic container with grease residue is neither appealing or sanitary and adds unwanted flavor and odor to the next food stored in the container. Sometimes a grease-cutting dishwashing detergent isn't enough to get rid of the grease residue, but other supplies, commonly found around the home, can inexpensively aid in the removal of grease stains.
Step 1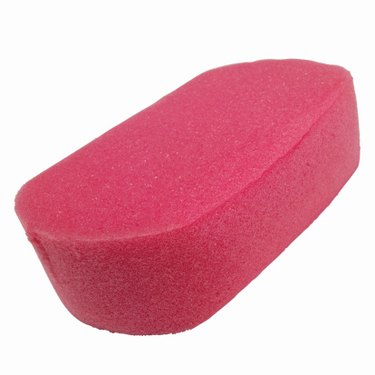 Saturate a sponge with white vinegar. Allow the sponge to remain soaking wet, rather than wringing out the excess liquid.
Step 2
Sprinkle baking soda over the sponge to lightly cover the surface. Scrub the grease stains on the plastic surface with the vinegar and baking soda mixture. Both ingredients deodorize while the vinegar cuts through the grease and the baking soda adds a safe, mild abrasive.
Step 3
Rinse the plastic with warm water to remove the baking soda residue. Repeat steps 1 and 2 to remove any remaining grease residue.
Step 4
Fill the plastic container with hot water and add a few drops of dishwashing detergent. Scrub the interior and exterior of the container with the sponge. Rinse with warm water and dry the container with a kitchen towel.
Tip
Sprinkle stubborn grease stains with baking soda, cornstarch or talc and allow the dry ingredient to absorb the grease for 10 minutes. Tap the container upside down over the trash to knock out the absorbent material. Wash the plastic with dishwashing detergent.
Tend to grease stains on plastic as they occur to avoid having the grease act as a dirt magnet, resulting in a bigger mess.