Things You'll Need
Heavy-duty leather belt

Belt-mounted cell phone carrier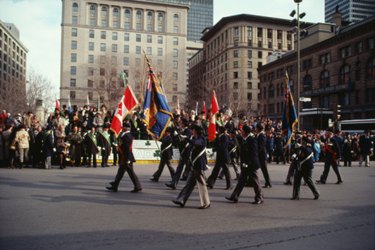 During patriotic celebrations, local organizations plan parades that include displaying national or local flags. Marching bands, service groups, and Junior ROTC drill teams carry their flags along a parade route during many of these outdoor festivities. While some of these flags are light enough to carry for a short distance, individuals carrying larger flags and marching long parade routes require some kind of carrying device.
Step 1
Pick up a heavy-duty leather or nylon weave adjustable belt from a local hardware store or home center. These items are carried in the contractor's tool section, and are manufactured for carpenters' and tradespersons' use to carry their tools.
Step 2
Purchase a nylon cell phone carrier in the same section of the store. In addition to hammer holders, nail pouches and larger drill holsters, most home centers also carry small heavy-duty nylon cell phone holsters. The phone-sized pouches feature a slip-on connector that attaches directly to the tool belt.
Step 3
Slide the cell phone holster onto the tool belt, and adjust the belt so that it rides comfortably on your hips. The holster can be positioned directly in the center of the person's torso, or slid over to one side to maximize the flag carrier's comfort.