Things You'll Need
Paper

Ruler

Pencil

Craft foam (optional)

Black satin ( optional)

Heavy-weight interfacing (optional)

Sewing machine (optional)

Thread

Needle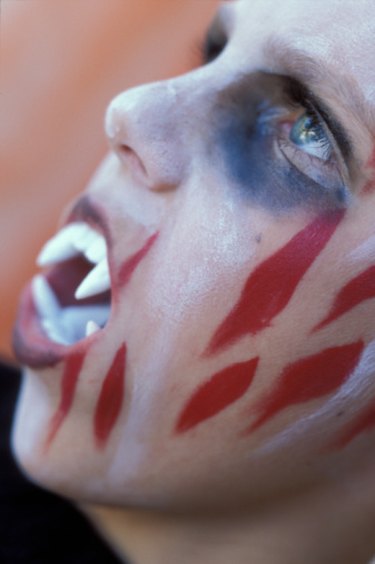 A tall black stand-up collar turns a plain black cape into Dracula's frightening outfit. Cut a quick collar from black craft foam or sew a collar from black satin. Slick back your hair and wear a tuxedo or just a white dress shirt and black slacks. A black vest is a nice touch, but a red or gold brocade vest with black lapels is stunning. Tie a short length of red ribbon around your neck under your collar and hang a medal from it. Don't forget your fangs.
Craft Foam
Step 1
Measure around the back of the neck of the cape from shoulder seam to shoulder seam. Draw a rectangle this length and 8 inches wide. Extend the line at the top of the rectangle 2 inches on each side. Draw a line to connect the outside ends of the new lines to the bottom corners of the rectangle. This is your pattern.
Step 2
Cut out the pattern and trace it onto black craft foam. Cut out the collar.
Step 3
Sew the neck of the cape to the collar, 1/4-inch from the bottom of the collar, centering it between the shoulder seams. Keep the cape perpendicular to the collar as you sew. This will make the collar stand upright
Satin Collar
Step 1
Add 1/2 inch to the top and sides of the pattern by using a ruler to draw a line 1/2 inch from these sides.
Step 2
Cut two pieces of black satin and one piece of heavyweight interfacing using the pattern.
Step 3
Place one piece of satin right side up on a table, lay the second piece on top right side down then place the interfacing on top of the stack. Align all the edges. Sew them together with a 1/2-inch seam allowance.
Step 4
Clip the corners of the seam allowance at a 45-degree angle. Cut close to the seam, but be careful not to cut the seam. Turn the collar right side out and press it. Top stitch the collar by stitching a straight seam 1/4-inch from the edge.
Step 5
Sew the fabric collar to the cape as described for the craft foam collar.