Things You'll Need
Tape

Workbench or sawhorses

Drill

Drill bit

Phillips head or slotted screwdriver

Two # 6 3/8-inch stainless steel screws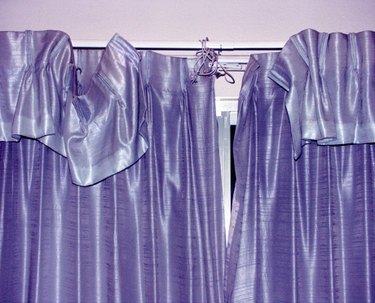 Spring-loaded or tension shower rods span the distant between shower walls, providing a place to hang the shower curtain. The mechanism inside the rod applies constant outward pressure, which holds it in place between the shower walls. When the shower rod fails and the curtain is lying in the floor, chances are the mechanism inside has snapped. It no is longer capable of supporting the weight of the rod or curtain. Fix the shower rod easily using just a couple of screws, avoiding the cost of total replacement.
Step 1
Hold the shower rod between the two shower walls so that it fits snugly against the wall.
Step 2
Mark the joint between the two rods using a piece of tape. Duct tape, masking tape or electrical tape is suitable for this step.
Step 3
Remove the shower rod and place it on a workbench or set of sawhorses. Spread the rod an extra 1/8-inch to provide a tight fit between the walls. The shower rod has rubber stoppers on the ends that will flex, allowing the rod to slip tightly between the two walls.
Step 4
Drill two holes opposite each other through both pieces of the shower rod at its joint using a drill and drill bit that are sized appropriately to match the screws. The holes must go through both sections of tubing.
Step 5
Thread the two screws into the holes and tighten using a Phillips head or slotted screwdriver. Place the rod between the shower walls and slide into place.
Tip
Do not increase the shower rod more than a 1/8 inch to avoid damaging the wall surface.
Warning
Wear safety glasses during operation of power tools.