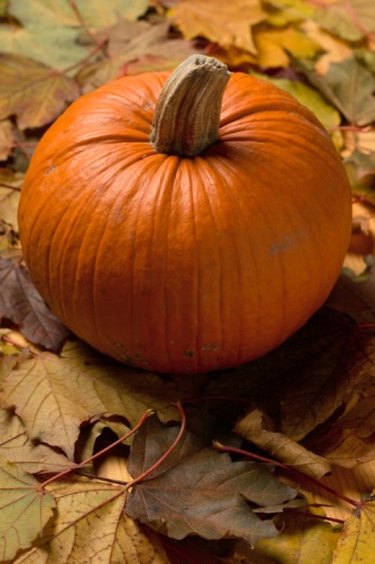 Round, oval or odd-shaped---to the pumpkin carver, any shape pumpkin will do. Once you've selected which of the orange vegetables will be your Halloween canvas, you'll need to store it properly. Good storage will prevent the vegetable from rotting, especially if you anticipate a long wait before carving it. In the right environment, you can store a pumpkin for two to three weeks. Lengthy pumpkin storage or overwintering will prolong an uncut pumpkin's life for several months.
Step 1
Cut the pumpkin from the vine using a sharp knife. Vines may be tough, so use caution when cutting. Leave a 2- to 3-inch vine stub to make handling easier.
Step 2
Roll or carry the pumpkin to a covered porch out of direct sunlight. Wipe away dust and debris from the pumpkin with a damp cloth. Dry completely before storing.
Step 3
Cover the pumpkin with a towel to prevent contact with sunlight. You can store the pumpkin outdoors, covered, for two to three weeks as long as the outdoor temperature remains cool. Ideal temperatures are between 50 and 60 Fahrenheit.
Step 4
Bring the pumpkin indoors. Place a placemat or towel on your counter or table. Position the pumpkin on the table. Use the pumpkin within two to three days to avoid rotting.
Tip
Store several pumpkins in a barn or outdoor storage shed by place them in one layer on a bed of straw.