Things You'll Need
Steel wool, chemical paint remove, or sand paper

Paint resistant to yellowing

Paint brushes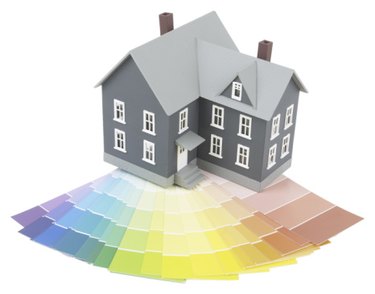 Finding yourself in the unfortunate situation of your white paint turning yellow may make you think that all of your hard work was for nothing. Understanding the basics of paint and color oxidation will help ensure that your white paint stays bright for years to come. Eventually, all paints will yellow over time and there is little that can be done to avoid this process in the long term. However, you can take simple steps to prolong the life of your white paint or replace old yellowed paint.
Step 1
Remove all of the existing yellowed paint. This is no easy task and will require some hard work on your part. The best way to remove paint from a wooden surface such as a table or shutters is to sand down the surface to remove all of the paint you need to replace. This can be done by using steel wool, a chemical paint remover, or sand paper.
Step 2
Prep the clean surface for new paint by ensuring that any nicks are filled and that the surface is dry.
Step 3
Develop a good relationship with a professional paint supplier and read the manufacturer instructions. If you inform the paint supplier of your intended purpose and use of the paint, he will be able to mix paint that is less likely to yellow; this may cost you more in the short term but it will bring about a good solution in the long term.
Step 4
Repaint the yellowed areas and make sure that the paint is mixed well to avoid the chemical reactions that may cause yellowing. If the surface is drywall or other surfaces that will not handle paint removal, then prime the surface with a bright white primer and repaint the surface. You will have better results in the long term if you use a paint that is specially made to be resistant to yellowing.