Things You'll Need
Coals

Coal barbecue starter

Barbecue lighter

3-pound beef tenderloin

Olive oil

Seasonings

Meat thermometer

Aluminum foil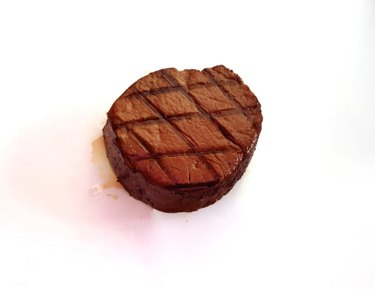 Primo XL grills are legendary in the realm of barbecues. Made in the U.S., the ceramic barbecue cooks foods using both direct and indirect heat. The grills utilizes round construction based on Japanese Kamado cooking theory, where thick walls trap heat and moisture to create the perfect cooking environment. Cooking a beef tenderloin on the grill utilizes both its own moisture and that trapped within the grill to produce a succulent piece of meat.
Step 1
Fill the firebox halfway with lump charcoal, and open the vent fully to help start the grill.
Step 2
Insert two starter pouches at opposite ends of the firebox. Light them, make sure the coals are heating, and then close the lid to allow the chamber to heat up.
Step 3
Raise the heat to 300 degrees F. When this heat has been achieved, close the vents 1/2 inch to maintain it.
Step 4
Rinse the tenderloin under running water and pat it dry with paper towels. Cover it with the olive oil and then evenly with the chosen seasonings.
Step 5
Set the tenderloin on the grill and close the lid. Cook it for one hour, turning the meat halfway through.
Step 6
Check the meat's temperature by inserting the meat thermometer and taking a reading. When the reading shows 120 degrees F, remove the meat.
Step 7
Tent the tenderloin with tinfoil and allow it to rest 10 to 20 minutes before consuming.
Tip
A variety of seasonings can be used on the tenderloin, however, it does not require marinating as it is a moist cut to begin with.
Warning
Never completely close your vents on the Primo. This can cause a fireball when the lid is opened again, due to the coals being devoid of oxygen.