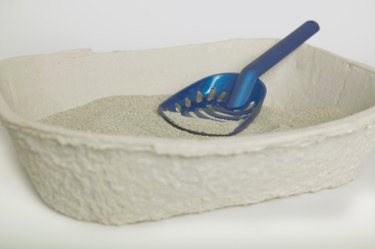 Some parts of your lawn may have dips and uneven areas that collect water during heavy rainfall. The water often stands for several days and can create a muddy, messy yard that no one wants to spend time in. When this happens, you need a quick way to get rid of the puddles without harming the lawn. Common kitty litter is the answer.
Step 1
Sprinkle a coating of kitty litter over the yard, covering wet areas thoroughly. Using the type of litter that clumps when wet will make the cleanup process easier.
Step 2
Let the litter sit overnight on the lawn. The litter will absorb the excess moisture from the yard quickly.
Step 3
Scoop up the kitty litter with a shovel or rake the next day. If using a clumping litter, you will be able to easily scoop up the clumps with the shovel. Regular litter will need to be shoveled or gathered with a rake.