Things You'll Need
Plastic or wooden stick (18 inches long)

Crepe paper streamer rolls in various colors

Glue

Scissors

Clear packing tape

Colored electrical tape

Curling ribbon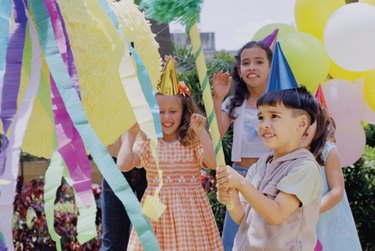 A piñata is a party accessory that rewards players who break it open by dropping gifts -- usually candy or toys -- stuffed inside. Traditionally, the game is played by one blindfolded player at a time who swings a stick and and tries to break the piñata following the vocal instructions of the other partygoers. Although any appropriately sized stick is suited for the game, you can add flair and your own decorative touch by designing and constructing your own stick. Doing so requires just a few materials and very little time.
Step 1
Tape the end of a roll of crepe paper, using clear tape, to one end of the stick. Wrap the streamer around the stick, beginning from the taped end and working your way to the other end. Once you have completely covered the stick, use scissors to cut the streamer and use another piece of clear tape to fasten the end. For more color, wrap different-colored streamers around the stick in the same manner, leaving gaps so that all the colors can be seen.
Step 2
Fasten the end of a roll of colored electrical tape to the end of the stick and wrap the tape around the stick in the same manner as the streamer(s). This will outline the streamer and give the stick a brighter appearance. Once you're done with the electrical tape, add curling ribbons to one end of the stick for additional flair.
Step 3
Wrap the stick in a layer of clear packing tape to protect it from moisture and possible tearing during use.
Tip
Match the colors of your stick with the colors used at the party, and those on the piñata, to create a color theme.