Things You'll Need
Purple fabric

Tailor's chalk

Scissors

Needle

Thread

Elastic

Safety pin

Loose white long-sleeve shirt

Green fabric

Purple scarf

Pink scarf
Esmeralda is a character from Disney's "The Hunchback of Notre Dame." Her main outfit throughout the movie is a flowing gypsy costume. You can easily make one using clothes from your closet or from a thrift store. Add a hand-made skirt for a versatile go-to costume.
Step 1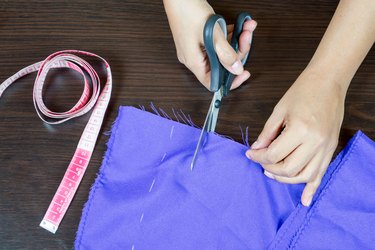 Turn the purple fabric inside-out. Wrap it around your waist and mark with tailor's chalk where your waist is. Mark where your ankles are.
Cut the fabric 1/2 inch away from the waist mark and 1-1/2 inches under the bottom mark. You will use this to make the costume's skirt.
Step 2
Sew along the chalk line on the side of your skirt. Fold the bottom edge over twice and sew all the way around the skirt. Do the same to the skirt's top edge, leaving an inch of the hem unsewn.
Step 3
Wrap the elastic tight around your waist where you want to wear the skirt and cut off the extra.
Pin the safety pin to one end of the elastic and feed it through the hole in the top hem. Sew the two ends of the elastic together, then sew the hole closed.
Step 4
Cut the collar off he loose white shirt if it has one, so you can wear the shirt off the shoulder. Fold the edge over twice, making sure there is room for elastic to go through, and sew, leaving a hole.
Wrap elastic around your shoulders where you want the shirt's neckline to fall. Cut the elastic to that length and pin one end. Feed it through the shirt's neck. Sew the ends together and the hole shut.
Step 5
Cut the sleeves off 1-1/2 inches below your elbow. Fold the edges of both sleeves over twice, making sure the fold is big enough to hold the elastic. Sew the sleeve hems, leaving a hole in each.
Step 6
Wrap the elastic around your arm just above your elbow and cut off two pieces of that length. Use the safety pin to feed a piece of elastic through each sleeve hem. Sew the ends together and close the holes.
Step 7
Cut a 6-inch wide rectangle from the green fabric that is long enough to tie around your torso under your bust.
Fold the rectangle in half, right sides together, and sew along the edge and one side, leaving the other side open. Turn it right-side-out through the open side. Fold in the side's raw edges and sew the rectangle closed.
Step 8
Put the skirt and shirt on. Fold the purple scarf into a triangle and wrap it around your hips.
Wrap the green fabric tight just under your bust and tie at the back. Tie the pink scarf around your head to complete the costume.
Tip
If you like, accessorize with a gold hoop earring and bangles on your wrists and ankles.