Things You'll Need
Lingerie bag

Laundry soap

Mild dishwashing liquid

Soft scrub or shoe brush

Washcloth

Clean cotton cloth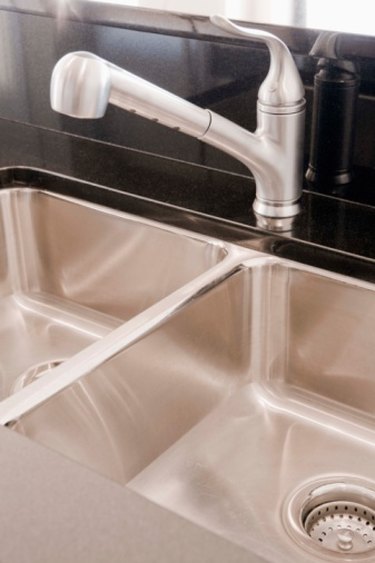 Mizuno Corporation was founded in Osaka, Japan in 1906. They later opened a manufacturing plant in Norcross, Georgia, called Mizuno USA, which makes many types of athletic shoes. Mizuno's goal is to provide shoes that fit and act in harmony with the consumer's body. Whether you own their golf, baseball, volleyball, running or softball shoes, washing them correctly is vital to extending their life.
Step 1
Remove any shoelaces. Wash them with a load of clothes in a similar color to the shoelaces in a lingerie bag in your washing machine.
Step 2
Run warm water into a sink; fill it about halfway. Add a squirt of mild dishwashing liquid to the water. Do not use chemically-enhanced detergents or dishwashing liquids with ingredients designed to soften hands. Swish the water around to create suds.
Step 3
Dip a soft scrub or shoe brush into the soapy water. Do not submerge the shoes in the water. Hold a Mizuno shoe in your hand and scrub it gently, paying close attention to cleaning dirt from the seams or heavily stained areas.
Step 4
Drain the water once you have removed as much dirt as possible from the shoes. Rinse the shoes with the sink's sprayer attachment or a clean washcloth, but squeeze out the cloth so it is not dripping wet before applying it to the shoes. Rinse away any remaining suds.
Step 5
Dry the shoes with a clean, soft cloth.
Step 6
Set the shoes in a well-ventilated area to dry thoroughly before wearing them again.
Tip
Purchase a water- and stain-repellent spray at the time you purchase your Mizunos. Apply the spray before wearing them the first time, following the instructions on the label. This helps protects them from dust, dirt and water damage.
Stuff wadded-up newspapers into your shoes to help maintain their shape while they are drying.
Take the Mizunos to a shoe repair professional; they often have a white spray dye to restore the shoes' finish. Or purchase a shoe-whitening product where athletic shoes are sold to restore the color to scuffed areas.
Warning
Do not wash your Mizuno shoes in a washing machine. This may damage their high-tech fibers.