Things You'll Need
Crab

Aluminum foil

Baking sheet

Butter

Deep fryer

Vegetable oil

Slotted spoon

Paper towel

Plate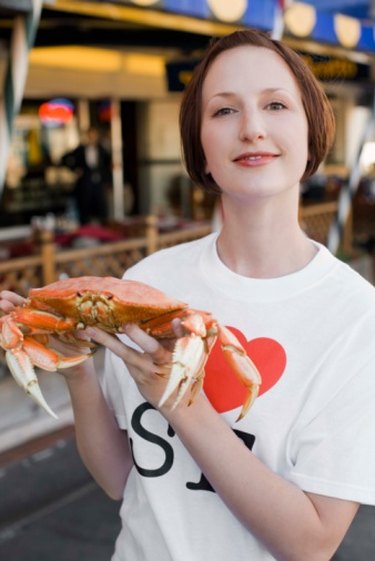 Deviled crab is made by mincing crab meat with a variety of vegetables then tossing them with bread crumbs. The concoction is seasoned with white wine or broth then restuffed in the crab shells. Different areas of the country use a range of seasonings from sage to garlic to add even more flavor. Seafood companies sell frozen pre-cooked and partially cooked deviled crabs to grocers where consumers can buy them. Seafood lovers reheat the crabs as needed using general reheating instructions. Some companies provide cooking instructions with their products.
Baking Crabs
Step 1
Allow the crabs to thaw then heat the oven at 450 degrees Fahrenheit.
Step 2
Arrange the deviled crabs on a foil lined baking sheet. Place the sheet in the oven.
Step 3
Bake the crab for 30 to 35 minutes. Brush the top of the crabs with butter then serve while hot.
Fry Crabs
Step 1
Allow the crabs to thaw completely. Once thawed, set your deep fryer at 350 degrees Fahrenheit.
Step 2
Drop a one or two crabs at a time in the hot grease. Allow the crabs to cook for 5 to 7 minutes each.
Step 3
Remove the crab with a slotted spoon and drain them on a paper towel. Top them with melted butter if desired. Serve the seafood hot.
Tip
Serve deviled crabs with lemon wedges and cocktail sauce. Bacon makes a good topping for stuffed crabs.
Warning
Don't eat seafood that has not been stored properly.