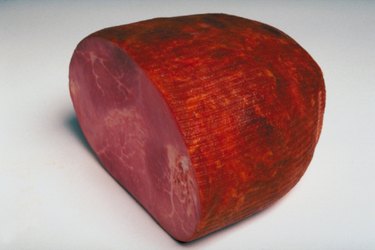 Ham is the meat from the hind leg and rump section of a hog. Ham is commercially available in many forms. Purchase ham fresh, canned, cured or fully cooked. Fully cooked hams do not require additional cooking and are often labeled "ready to eat" or "heat and serve". Always check ham labels for proper preparation and cooking instructions. Spiral-cut hams are fully cooked and ready to eat. Spiral-cut hams can be served cold, at room temperature or warmed in the oven. Warm spiral hams in a cooking bag to preserve moisture and prevent dryness.
Step 1
Preheat oven to 325 degrees Fahrenheit. Remove ham from packaging materials.
Step 2
Insert ham into cooking bag. Place ham face down onto roasting pan or baking dish.
Step 3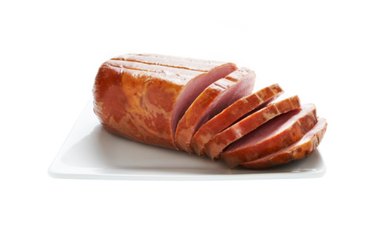 Warm ham in oven for 10 to 12 minutes per pound. Remove ham from oven when heated throughout. Take ham out of cooking bag and let it rest on counter for 10 minutes. Slice ham and serve.
Tip
Apply glaze to ham for added flavor and moisture if desired. Brush glaze onto ham 30 minutes before end of warming time. Store ham leftovers in the refrigerator for three to five days.
Warning
To prevent dryness, don't overcook the ham.