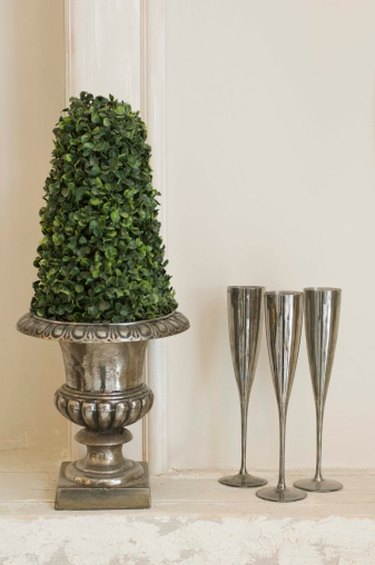 Many types of silver are coated with lacquer which helps protect the silver surface from becoming tarnished, stained or rusted. Sometimes the lacquer will wear off and begin to peel. You might also encounter a lacquer problem if it wasn't applied properly, and that can ruin the look of your fine silver. When this happens, work to remove the lacquer before you decide to replace it or keep it off permanently.
Step 1
Fill a sink with very hot water from the tap.
Step 2
Add ½ cup ammonia to the hot water. The ammonia will help peel the lacquer off without damaging the silver.
Step 3
Put the silver in the ammonia water. Let it soak there until the water cools completely.
Step 4
Drain the sink. Rub off the loosened lacquer with your fingers and clean cloths. If you are unable to remove the lacquer completely, repeat the process until you can.
Step 5
Rinse the silver with clean water and dry it completely with a clean cloth.
Tip
Remove lacquer when you begin to notice stains and black spots developing underneath the lacquer.