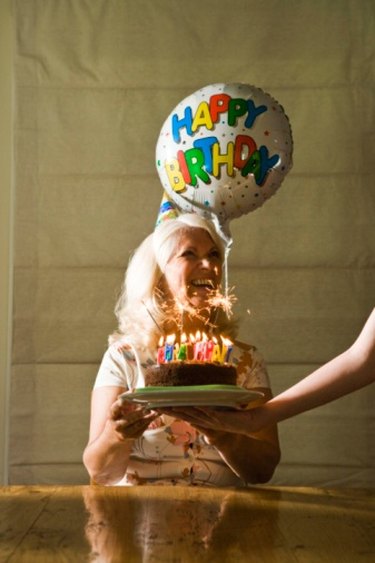 Your mother is one of the most important people in your life and has likely had a great deal of influence in shaping who you have become today. Celebrate her 85th birthday as an exciting milestone in her life. A week-long celebration can be both fun and age appropriate, as you ensure your mother has a wonderful birthday. Treat her to a meal, take her out for a day of shopping or pampering and cap the week off with a gathering of her friends and family members.
Step 1
Join your mother for her favorite weekly activity. Begin your mother's birthday celebration by attending church, her community activity or even her exercise group with her. Doing so is one way you can brighten her week by being present in her life and doing things of interest to her.
Step 2
Take your mother out to breakfast, lunch or dinner during the week of her birthday. Allow her to choose her favorite restaurant or take her to a new place. Or, if she prefers to stay home, cook a special birthday meal for her.
Step 3
Arrange for a day of light shopping with your mother. Take her to her favorite department store or shopping center. Avoid crowded malls or places that will require a great deal of walking, as this may be tiring for her.
Step 4
Pamper your mother with a spa day. Include a manicure and pedicure for your mother to enjoy during her birthday celebration week.
Step 5
Throw a party for your mother. Invite the family and her closest friends to celebrate this milestone in your mother's life.
Tip
Keep the activities you do with your mother light and simple to avoid tiring her.