Things You'll Need
Mantel parts, legs and shelf

Level

Wood shims

Pencil

Construction adhesive

Utility knife

Caulk gun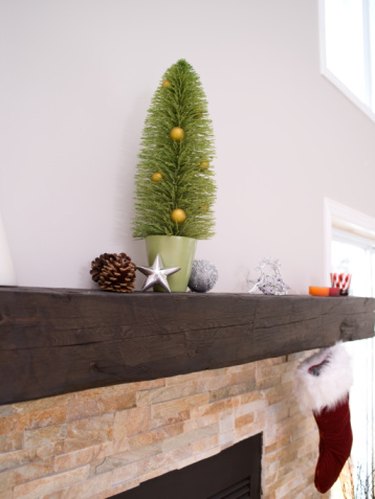 A rustic fireplace mantel can enhance the fireplace and make it the centerpiece of the room. You can install a fireplace mantel as a do-it-yourself project using construction adhesive and basic tools that most homeowners have on hand. The mantel consists of two legs and a shelf. The legs support the shelf and flank the fireplace opening. Rustic mantels go well with country, cottage and even craftsman-style homes. Select a material such as wood or stone for the mantel. Aged or reclaimed wood works well.
Step 1
Fit the mantel parts into place on the fireplace facade. The legs should go on either side of the fireplace opening. The shelf rests on top of the legs.
Step 2
Place a level on the legs vertically and adjust them for level, using shims. Place the level on the shelf and adjust the shelf for level with shims as needed. Slide the shims behind any of the hidden joints of the parts. Mark the level lines on the facade by tracing along the inside edges of the mantel parts with a pencil.
Step 3
Remove the mantel parts and lay them with the back sides facing up on a work surface. Cut off the tip of a tube of construction adhesive with an utility knife to make a 1/4-inch opening. Insert the tip into the rod on the caulk gun to break the seal. Pivot the tube into the caulk gun tip first.
Step 4
Apply a 1/4-inch bead of caulk on the back side and bottom of each leg and fit the legs in place against the fireplace facade. Line up the inside edges with the pencil lines. Check again that they are level and press them in place. Allow the legs to dry for at least 24 hours.
Step 5
Apply a 1/4-inch bead of caulk on the back side of the shelf and top ends of the legs. Lay the shelf over the top ends of the legs and press it in place against the fireplace facade and down firmly against the legs. Allow the shelf to dry for at least 24 hours before placing anything on it.
Tip
Complement your rustic mantel with a cobblestone fireplace facade.
Warning
Follow construction adhesive precautions carefully.