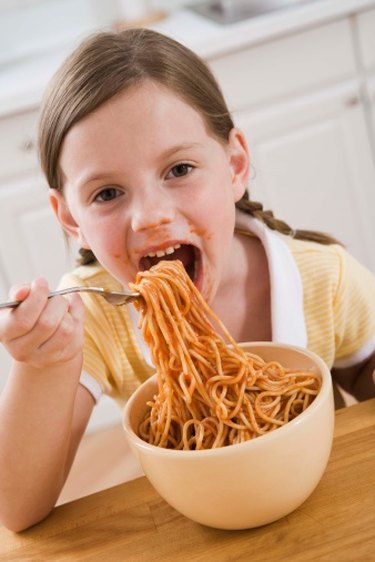 Canned or jarred spaghetti sauce makes a quick dinner. Heat it up, serve it over some noodles and you have a meal for 1 or 2 people. It may not be Momma's long-simmering sauce, but for convenience and a pinch it does the job. Making it taste a little better and less store-bought is easy with just a few ingredients.
Step 1
Add extra spices to the sauce as it is heating up. A dash of ground cloves or cardamom adds a sweet, exotic touch, and basil is always good with any type of tomatoes recipe. If you are going to let it simmer for a while, add 1 or 2 bay leaves. Other Italian spices that can go into the sauce are oregano, rosemary and parsley.
Step 2
Chop and saute vegetables such as onions, celery, sweet or hot peppers, eggplants or carrots in a little oil. When the vegetables soften, add them to the spaghetti sauce.
Step 3
Saute ground or chopped beef, pork, chicken or turkey until it is well browned, drain off the juices, and add the meat to the sauce. A heaping spoonful of beef or chicken stock powder will give some of the same type of flavor. Add seafood such as shrimp, clams, fish fillets, scallops and crab together to make a quick San Francisco Ciopinno-like topping for the noodles.
Step 4
Add a pat of butter or an 1/8th cup of olive oil at the last minute before pulling the sauce off the heat. Blend the butter or oil into the sauce.
Step 5
Add a tablespoon of either Asian fish sauce, high-quality soy sauce, Worcestershire sauce or red wine a few minutes before taking the sauce off the heat.