Things You'll Need
Latex paint

Paint stick

Paint tray

Paint roller

Looped paint roller cover

Paintbrush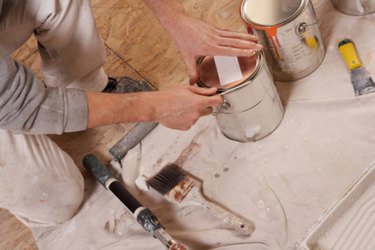 Skip trowel is a common texture finish for interior walls. This finish looks similar to stucco and can create a rustic feel in any room. Skip trowel finish is often used to cover up imperfections on the walls of a room. When finished, skip trowel finish adds a warm and stylish feel to the walls of a room. Painting over the skip trowel finish can be tricky, because the paint roller will not cover all of the divots and valleys in the finish. Painting the walls will not be any more difficult than painting regular walls, but it will take longer.
Step 1
Mix the latex paint with a paint stick. Dump a small amount of paint into a paint tray. Lay down a drop cloth under the walls you will be painting.
Step 2
Fit a paint roller with a lopped roller cover. Dip the roller into the paint tray. Cover the paint roller completely with latex paint.
Step 3
Apply the paint to the walls with the paint roller in a "W" pattern. This will cover the main area of the wall with paint. The paint will have an uneven application because of the skip trowel finish.
Step 4
Fill in the missed valleys in the skip trowel finish with a paintbrush. Roll the paint roller over the wall again to smooth out the finish. Repeat with all of the walls.